Ask the iTunes Guy: More changes to iTunes 12, more problems to fix
Users are still trying to figure out the latest version of iTunes.
Another update, another series of changes and problems. Apple's recent update to iTunes—version 12.2.2—made some changes, and I look at one issue when purchased content now shows up in iTunes libraries. I also examine new playlist views in iTunes 12, new music sorting in the Music app with iOS 8.4, and answer a question about buying music from the iTunes Store in other countries.
Cloudy weather
Q: What's with all these cloud icons that suddenly showed up in my iTunes library after the latest update to iTunes?
Lots of readers wrote in with variations of this question. When iTunes 12.2.2 was released last week, many users found that there were cloud icons in their library, even though they have iCloud Music Library turned off. These cloud icons indicate purchased content that's not in the local iTunes library. Apple turned on a feature that used to be off by default, causing a fair amount of annoyance.
iTunes—independently of iCloud Music Library—lets you choose to display purchased content in your Music, Movies, or TV Shows libraries. There used to be a setting in the preferences for this, but this setting is now in the View menu. You can read more about this in an article on my website, but note that many users (including myself) found that they had sign out of the iTunes Store and sign in again several times to be able to turn this feature off.
Confused sorting
Q: Since iOS 8.4, music on my iPhone has been sorted differently. When I look at my music sorted by artist, a handful of albums are sorted in date order, followed by the rest in alphabetical order. How can I get all my albums sorted correctly by title?
As you say, the iOS Music app now displays the year of each album in Artists view, and sorts them by year. If there's no year attached to the music, it sorts albums alphabetically. So if some of your albums have years and others don't, you'll see the sort order change as you scroll down the list.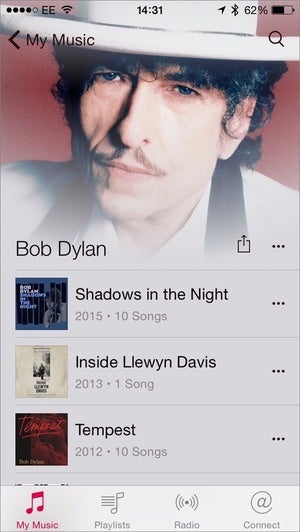 The Music app now shows the year of each album in Artists view, and sorts by year.
You can't change this sort option, and to make it even more complicated, it sorts in reverse chronological order; newest to oldest. I'd rather sort the other way, or at least have a choice.
Personally, I add dates to much of my music, though not to classical music. This correspondent has mostly a classical music collection, and never entered dates when he ripped his CDs, but many of those discs picked up dates together with other metadata downloaded from Gracenote.