Ask the iTunes Guy: Limited options for viewing music, album repeat, and duplicate tracks
Got questions about iTunes? Kirk McElhearn has the answers.
There aren't many options to accomplish what you want. You could make a playlist for each artist for whom you have a lot of music. You could tap the search icon at the top right of the iPhone display, then type the name of the song you're looking for. You could display your music by Songs, and scroll to find the song you want. But I have a feeling that none of these would fully satisfy you.
I would love to see options for the way the Music app displays albums and songs. Some people are happy with this reverse chronological order, because they see the most recent albums at the top of the list. But others, like you, and me, would actually prefer to see albums in alphabetical order—because if I'm searching for an album, I look for its title, and don't remember when it was released—and with the songs on the first screen.
While we're all used to Apple imposing their "best way to do something" on users, it can be annoying. Not only because we often have no options to change the way things work, but because Apple changes some of these things from one version of iOS or OS X to another.
No dupes in this playlist
Q: I'd like to import all my songs of a particular genre into a specific playlist. However, some of the songs are already in the playlist. Is there an easy way to import all of the genre list without duplicating entries?
This is something that iTunes actually does very well. If you add a bunch of songs to a standard playlist (not a smart playlist) iTunes displays a dialog explaining that some of the tracks are already in the playlist. It asks if you are sure that you want to add them to the playlist. Your choices are Skip, Cancel, and Add.


iTunes is good at warning you if you're about to add songs to a playlist that already contains those tracks.
In your case, click Skip; this tells iTunes to skip the duplicate tracks, but to still add all of the others. If you did want to add the duplicates—if you wanted certain songs to be in the playlist more than once—then you would click Add. And if you made a mistake, you click Cancel and iTunes doesn't copy anything.
Over and over
Q: How can I make an album loop continuously on my iPhone?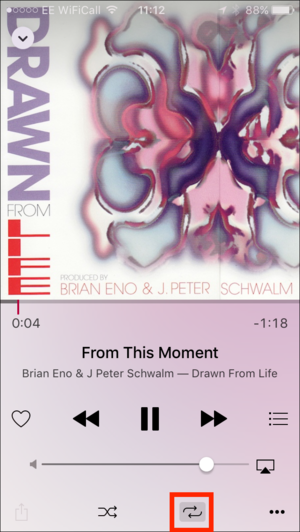 Tap the Repeat button (in the red square) to play an album over and over and over...
Sometimes you want variety, but sometimes you want to hear your favorite album over and over. I often listen to new albums several times when I get them, to fully immerse myself in the music.