Archt One all-in-one speaker review: Call it the anti-stereo
The Archt One (it's pronounced "arc") is something of an anomaly, and not just because this self-powered speaker is shaped like an artillery shell crowned with one of Saturn's rings. The Archt One is the result of a Kickstarter campaign that kicked off in October 2014, blew past its $70,000 goal (having raised $242,000 by its conclusion in December), and shipped to backers on time in March 2015. The speaker went into mass production early last month, and the manufacturer sent us one for this review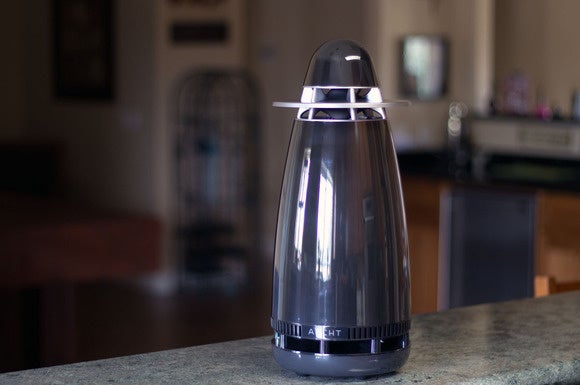 The Archt One (it's pronounced "arc") is something of an anomaly, and not just because this self-powered speaker is shaped like an artillery shell crowned with one of Saturn's rings. The Archt One is the result of a Kickstarter campaign that kicked off in October 2014, blew past its $70,000 goal (having raised $242,000 by its conclusion in December), and shipped to backers on time in March 2015. The speaker went into mass production early last month, and the manufacturer sent us one for this review.
The Archt One can play music from an Android or other device via Bluetooth, from an iOS device or Mac via AirPlay, or from any DLNA-compatible device on your Wi-Fi network. Finally, you can also connect any analog source to its 1/8-inch aux input. The speaker has a USB port for charging portable devices, too. I auditioned it using an HTC One smartphone with Bluetooth first, and then with and an iPod touch via AirPlay. I found sound quality to be superior with the latter, but connectivity more reliable with the former. I'll go into more detail on its audio performance later.
Most speakers, including all-in-one designs like the extravagant Naim Audio Mu-So and the more down-to-earth Wren V5PF, use left and right drivers in order to produce a stereo image. That's how the vast majority of music is recorded, after all; but one of the problems with this solution is there's invariably a very narrowly defined sweet spot where the music sounds best. The reasoning for the Archt One's unconventional shape, its manufacturer says, is to deliver an omnidirectional sound stage that doesn't have a limited sweet spot.
To achieve that goal, the Archt One has one down-firing 80mm full-range driver in its nose cone and an up-firing 120mm subwoofer hanging from the underside of that ring. You'd think the output from one would cancel out at least some of the other's, but examine the speaker more closely and you'll see that the ring is more like a flying saucer, with domes on its top and bottom directing the sound waves from those two drivers out in all directions. There's also a down-facing 150mm passive radiator near the bottom of the enclosure, hanging above the circuit board that hosts its amplifier and other electrical components. The dome idea is replicated there as well.
Using a single full-range driver for the upper register and one for the lower register is a sonic compromise necessitated by Archt One's goal of delivering omnidirectional sound. It's much easier to reproduce the full range of musical performances when you deploy drivers dedicated to reproducing specific segments of the audio spectrum: Tweeters for reproducing high frequencies, mid-ranges for the middle, and a woofer for bass. But this type of enclosure can't accommodate that.