Apple TV Remote app puts a Siri Remote on your iPhone
Apple has released a replacement for its old Remote app, rather than an update.
Using Siri in the app is a weird experience, because the app still requires that you hold down its virtual Siri button, and it relays your voice data to the Apple TV for processing, rather than using built-in iOS support. This is a good choice given the range of hardware on which the remote app can work, but it was confusing at first; the Apple TV does prompt you to hold down the button, just as with a Siri Remote.
The volume up/down buttons are a notable omission onscreen, but if your Apple TV is set up to use HDMI-CEC to control the receiver or television to which it's connected, you can use the hardware volume buttons on an iPhone to control volume. Even though my A/V system is set up that way, it didn't work for me; many colleagues I checked in with had varying experiences, but it does work for some. (The Siri Remote includes infrared, so it can control devices without HDMI-CEC, but my system is configured for HDMI-CEC, an HDMI-CEC label appears on screen, and the remote works without line of site.)
The app changes which buttons appear by context, so when you're playing music, track forward and back buttons appear, and watching a video, 10-second rewind and advance rewinds buttons show up. The app also shows album art or a video cover. On an iPhone with 3D touch, you get force feedback when making certain choices, although I wasn't able to find cases outside of games in which that occurred.
The app also sends gyroscope and accelerometer information for movement and relative orientation, just like a Siri Remote, but I was hard pressed to find apps that supported these. I tested with several games, and only Octodad: Dadliest Catch made use of tilt.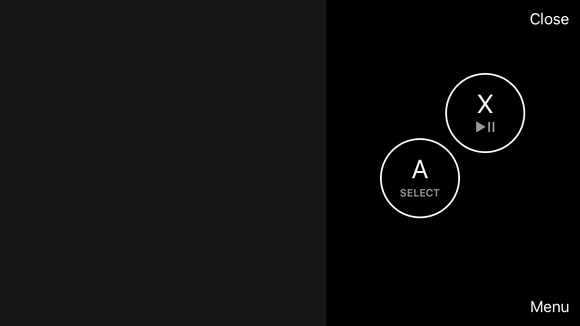 The Apple TV Remote includes a Game Mode with a reduced interface and landscape orientation.
When using an app, a game-controller icon appears whether or not the game is enabled for a controller. Tapping the icon switches from portrait to landscape orientation, and puts the touch pad at left, while removing most buttons and hiding other parts of the interface. (Find the tiny Done link to return to Siri Remote mode.)
The game controller makes it easier to hold in two hands, and the Select and Play/Pause buttons double as old-school A and X buttons. In testing with many games, the apps don't recognize Game Mode as a controller, and Apple hasn't provided details yet on whether app developers will be able to sense that mode. With tvOS 10, Apple will allow app makers to require a game controller, and it may be that the new app will gain more capabilities then.