Apple simplifies navigation with iTunes 12.4
Apple has thankfully made iTunes simpler to use.
Apple on Monday released iTunes 12.4, simplifying some of the complex navigation features that have been criticized in this version of the media management app. Apple's release notes for iTunes 12.4 say: "Now enjoy all of your music, movies, TV shows, podcasts, and more in a simpler design." You can update iTunes through the App Store app on your Mac.
When I reviewed iTunes 12 back in late 2014, I said, "Overall, I find the navigation confusing—it requires too many clicks to get around." I find the changes Apple has wrought to the interface of iTunes 12.4 to be both positive and intuitive, and I think all users will find these new ways of navigation to be more efficient, once they get used to them.
Navigating iTunes is now—or, again—centered on the sidebar and a single menu in the navigation bar. (You can show or hide the sidebar in the View menu.) Instead of a lot of confusing media kind buttons in the navigation bar, there is now a popup menu that Apple calls the Media Picker. Click it to choose a media library, edit the Media Picker menu, or mount another iTunes library with Home Sharing.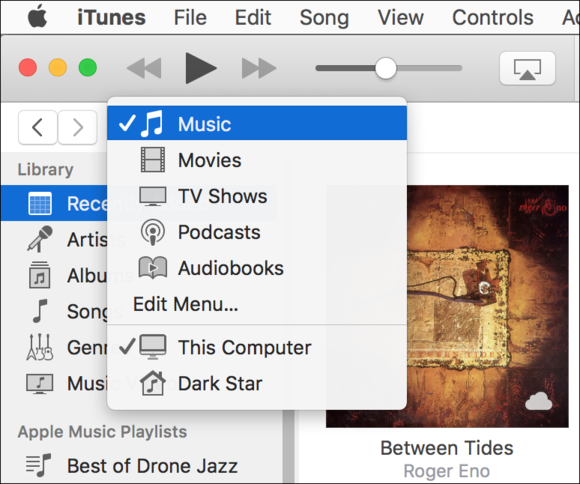 Choose a media library from this popup menu.
When you've selected a media library, you can then access its contents from the sidebar. Under the Library header, you'll see a number of ways to access your media. For example, when the Music library is selected, you see, by default, Recently Added, Artists, Albums, Songs, Genres, and Music Videos. If you right-click anywhere in this section and choose Edit List, you can add Composers and Compilations, or remove any of the view options if you prefer. Click Done, or click anywhere else in the sidebar to save your changes.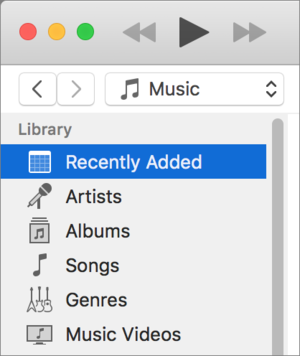 The sidebar is back, and it's your control center for accessing your iTunes content.
It makes more sense to have a sidebar entry for Recently Added than to pile this content up at the top of the various views, as it was before. But I do not see any way to change the scope of this selection (weeks, months, etc.).
Also gone is the View Options menu, which was previously at the top right of the iTunes window. To change view options—such as how your content is sorted, whether artwork displays, and which columns are visible in list views—choose View > View Options, or press Command-J.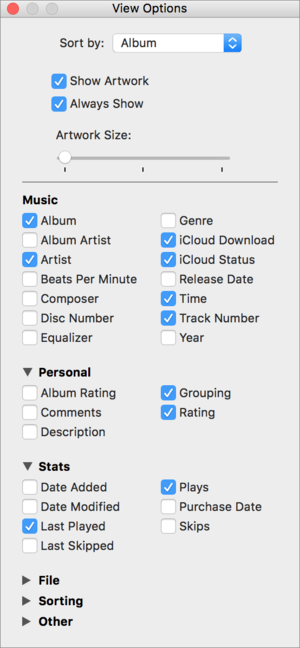 The View Options window is back; it's now much easier to choose which columns you want to view, and more.