Apple Music in iOS 10: Smart, simple, but still imperfect
Apple's streaming service got a much-needed reboot. Here's everything we love and what we could do without.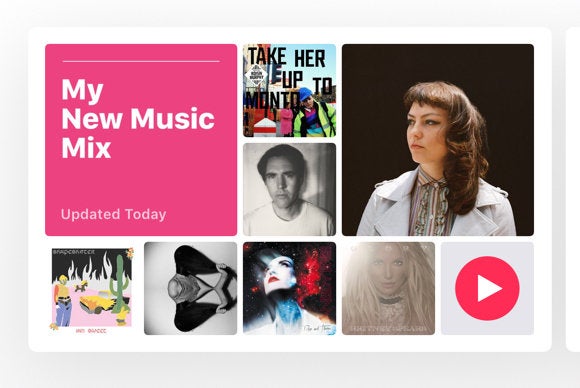 These are different from the Discovery Mix that Apple promised during the Worldwide Developers Conference in June, which sounded like a direct competitor to Spotify's insanely popular Discover Weekly playlists. Spotify's mix, which is refreshed every week, sounds like one your best friend would make you: deep cuts from your favorite bands combined with new music you'll probably like and tunes from artists you've never even heard of. Discover Weekly understands your soul. I was hopeful that Apple's Discovery Mix would be the exact same.
But instead, Apple split up its algorithmic playlists into a collection of favorites, either songs I've favorited in the app or songs by artists I follow, and a mix of new songs the algorithm predicts I'll like. The favorites mix is great, obviously, because I've listened to and loved those songs before. The new music was just OK. Neither were anything like Discover Weekly.
For You also features recommended playlists which seemed to have no relevance to stuff I like—Wednesday's Playlists featured a playlist of EDM samples and one called "Electronic BBQ." No thanks.
Then there's a section called Heavy Rotation, which features songs and albums you play too much, Aritist Spotlight playlists, new releases, and every artist post that would've gone under Connect but now is buried at the bottom of For You.
This still needs some work. Kill Connect already, Apple, and make those algorithmic playlists just as good as the ones made by humans.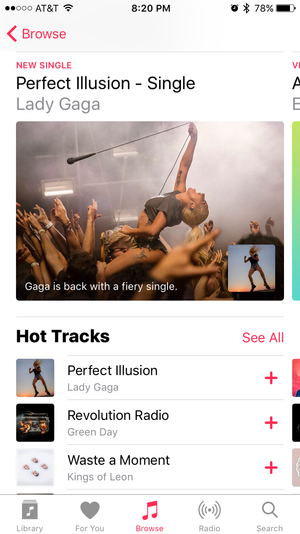 Browse
Browse is brand new to Apple Music, and it's a tab that serves as a catch-all. From here you can navigate to New Music, where newly released songs and albums live alongside new artists, hot tracks, and "music you need to hear." Here you can also get to the curated playlists made by Apple Music's editors. You can browse playlists by activity, genre, or curator/sponsor (Shazam makes playlists, as do Pitchfork, Sonos, and Vogue).
Then there are music videos, top charts, and genres, which seem like afterthoughts. It feels like Apple should've kept New as its own tab, since a big reason why people use streaming music services is to quickly find the latest releases and check them out before buying them outright.
Radio
Apple is still clinging tight to Beats 1, as it should, and its 24-hour radio station is given top billing under Radio. Finding a Beats 1 show that already aired or listening to whatever show is currently streaming is easier than ever, which might turn Beats 1 into more of a go-to when I'm in the mood to let someone else play DJ.