Apple Music in iOS 10: Smart, simple, but still imperfect
Apple's streaming service got a much-needed reboot. Here's everything we love and what we could do without.
Apple Music was heavily criticized for just about everything when it launched last summer, and rightfully so—the app was needlessly complicated to use and handled your purchased songs and streaming library in an opaque, confusing way.
So Apple redesigned the Music app in iOS 10, taking all of those critiques to heart. Apple Music cleaned up the clutter, reconsidered the navigation tools, put your library front and center, and added algorithmically created playlists to rival Spotify's. It's still not perfect, but the streaming service's 17 million paying subscribers will have an easier time finding and saving the music they love.
Bigger, bolder, brighter
After installing iOS 10, the first thing you'll notice when you open Apple Music is how much bigger everything is. The fonts are larger and so is the album art, with plenty of white space in between.
Then you'll see the new navigation bar, which is still pinned to the bottom of the app but now spotlights areas of the app that you actually need to see. Gone are Connect, the social network for musicians that no one uses; New, which was a catch-all for popular tracks and fresh playlists; and My Music, which had separated your streaming library from your playlists in a befuddling way.
Apple replaced those tabs with Library, Browse, and Search, which combined make it much easier to find exactly what you're looking for without all those extra taps.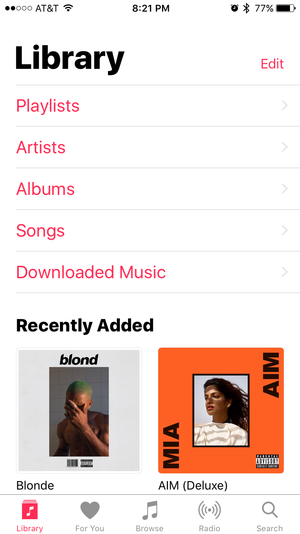 Library
We may never know why Apple Music's designers thought the best way to store your music was to divide it into your Library and Playlists, but those days are thankfully behind us.
Now your library is front and center, with shortcuts to your playlists, artists, albums, songs, and downloaded music right at the top. Recently added songs and albums live underneath those shortcuts in a two-column view that emphasizes album art. It's clean, simple, and gets the job done.
I had one complaint about how Apple Music organizes your Library, but I found a fix that was completely unintuitive. Songs and albums are by default organized alphabetically by artist name, which made no sense to me. The fix: Go to your iOS Settings > Music, then tap on Sort Songs & Albums under Library. Switch By Artist to By Title. Thank me later.
For You
At first I loved For You, which in version 1.0 seemed to know exactly which human-curated playlists I would love. But those playlists got stale, and I stopped relying on Apple Music to help me discover fresh tunes. In iOS 10, Apple has introduced algorithmically selected playlists, My Favorites Mix and My New Music Mix, which are placed squarely at the top of For You.