Apple Music FAQ: The ins and outs of Apple's new streaming music service
What kind of playlists can I create? Will Apple Music replace iTunes? What will happen to my Beats subscription? We have the answers, and more.
If I subscribe to Apple Music, do I still need my iTunes Match subscription to keep my complete music collection together? According to Apple, iTunes Match and Apple Music are completely separate services, so it will be up to you to decide if you'd like to keep iTunes Match. If your personal music collection has a lot of rare tracks and content that you can't get through Apple Music, then you may want to consider keeping both subscriptions.
All about the music
How's the music quality? Apple Music streams songs at 256kbps, which is the same rate as iTunes Match. That's a bit of a drop from Beats Music and Spotify, which use a 320kbps bitrate. And competitor Tidal boasts more than just major celebrity endorsements: It offers a high-bitrate option (1411kbps lossless FLAC) at a pricier subscription rate, the "HiFi" tier for $19.99 a month.
Does Apple Music link with Sonos? Not right now, but it is coming. Apple confirmed the plans in a statement to BuzzFeed's John Packowski, saying "we're working together to make Apple Music available on Sonos before the end of the year." In the meantime, Sonos customers can continue subscribing to Beats Music.
Can I save music to listen to offline? Yep! Apple Music lets you save tracks to listen to offline—you can save as many songs as you'd like, as long as your device has space for them. But remember: You won't own those files and you won't be able to offload them anywhere else. You can't burn them onto a disc, use them in separate video projects, or put them on other devices that aren't linked to your Apple Music account. If you decide to cancel your Apple Music subscription, you'll lose access to those songs. However, the offline listening feature is a great option if you're concerned about data overages, or if you know you'll be in an area without a good wireless connection.
To save items for offline listening, head on over to the My Music tab and tap the "More" button next to the artist, song, album, or playlist you want to save. Then select "Make songs available offline," and the songs will start downloading. If you want to only view your offline music, head on over to your Library in the My Music tab, then tap the drop-down arrow next to Artists. Toggle the switch next to "Show music available offline."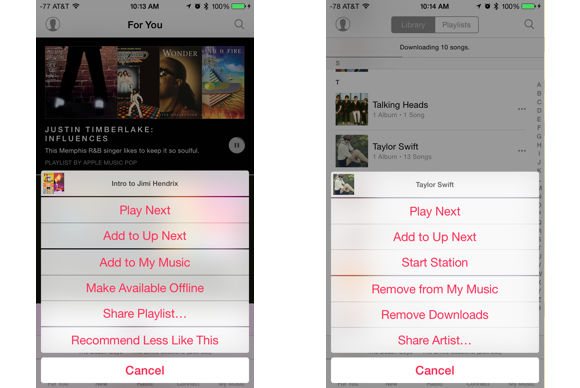 You can easily sync music for offline listening, and release those tracks back into the cloud to make more space on your device.
If I save too much music for offline listening, how can I delete to clear up iPhone/iPad space? The process is similar to adding music: Tap the "More" button next to the artist, song, album, or playlist you want to ditch. Tap "Make songs available offline" to release them back into iCloud. (Hint: It helps to toggle on the "Show music available offline" switch.)
Previous Page 1 2 3 4 5 6 7 Next Page