Apple Music FAQ: The ins and outs of Apple's new streaming music service
What kind of playlists can I create? Will Apple Music replace iTunes? What will happen to my Beats subscription? We have the answers, and more.
So, iTunes is dead? Not exactly. You can access your entire iTunes library from within Apple Music—just tap the My Music tab—and iTunes will still be a standalone app and media store if you'd prefer to continue to buy music a la carte. However, if you've let purchasing music fall by the wayside, you may never have to open iTunes again if you sign up for an Apple Music subscription.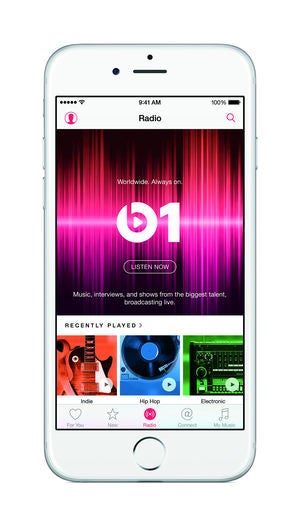 Beats 1 is Apple Music's 24/7 live radio station, which has a curated collection of songs, artist interviews, and pop culture.
What makes Apple Music different from Spotify/Rdio/Tidal/every other music subscription service? Apple is putting a lot of emphasis on Apple Music's three additional features: Beats 1, curated playlists, and Connect.
Beats 1 is its radio offering, which features an around-the-clock worldwide live broadcast from DJs based in Los Angeles, New York, and London. It promises to deliver a curated selection of songs, pop culture news, and interviews with artists.
Speaking of curation, Apple Music also offers up recommendations tailored to your tastes, looking at artists you like and serving up other artists and playlists for you to listen to. But instead of being built by algorithms, they are built by real people, according to Apple. You can find these in the "For You" section of the app—but first you'll have to set it up by following the prompts to select genres and artists you like.
Connect is Apple Music's artist-based social networking feature, which lets fans follow artists. Artists can share special content with fans through Connect—hip-hop artist Drake took the stage at WWDC to show off how he'd use Connect to post behind-the-scenes photos of his life, share snippets of new songs, and other content. Besides Drake, you'll find Connect profiles for Pharrell Williams, FKA twigs, Chris Cornell, Bastille, Alabama Shakes, Pearl Jam, and more. Apple has also created genre-specific profiles to follow. Apple automatically has you follow artists when you add their songs to your music library, but you can opt out of this (and find other artists to follow) in your account settings.
Besides that, Apple Music's library has 30 million songs—the same number as Spotify, though the exact track listings vary. Oh, and you can also watch music videos without ads—something that no other streaming service currently offers.

Pick your favorite genres and artists to get the best recommendations possible.
How much does this cost? Apple Music costs $9.99 per month, or $14.99 per month for a family subscription for up to six people (which requires iCloud Family Sharing).
Previous Page 1 2 3 4 5 6 7 Next Page