Apple Music 1 year in: What we love, what we hate, and why we stay
Apple's streaming service is officially old enough to know better, but still too young to care.
I love how seamlessly integrated it is across all of my devices—I go straight from listening to music on my MacBook at work to streaming playlists on my commute, and then picking up right where I left off on my Apple TV when I get home. This flow didn't work nearly as well under my previous music subscription service of choice, Rdio (RIP!).
What I hate: The Apple Music navigation and UI needs to go, pronto. I still find myself getting lost in it from time to time, and even when the navigation path is clear, I find that it takes too many steps to actually get there. Even though Apple has done a great deal of cleanup, the experience still feels too bloated with menus and excess features (looking at you, Connect).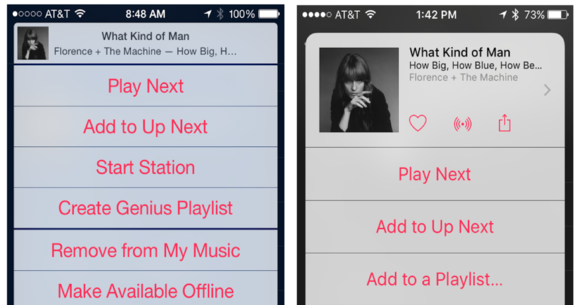 Last year's navigation update was great, but it still needs work.
When Apple Music first launched, I was enamored by its For You section, which I assumed would be my most-used feature. I still love the curated playlists, but I haven't been very impressed by Apple Music's machine learning. I'm constantly expanding my collection and adding new artists to my repertoire, but For You still dishes up the same recommendations, which, as Caitlin mentioned, are starting to get stale. I frequently find myself searching for playlists featuring certain artists, yet For You isn't getting the hint.
iOS 10 change I'm waiting for: Bring on the new UI! Like Oscar, I will miss the color-coordinated backdrop for whatever I'm listening to, but that's about it. I'm also excited to see what all of the fuss is about regarding Discover Mix—I rarely use my free Spotify account, and thus am not super familiar with Discover Weekly, but all the cool kids say it's great. And, of course, song-lyric integration, so that I can practice for my next karaoke showdown.
Previous Page 1 2 3