Apple Music 1 year in: What we love, what we hate, and why we stay
Apple's streaming service is officially old enough to know better, but still too young to care.
I've never struggled much with Apple Music's interface, but obviously it could be easier to use.
iOS 10 change I'm waiting for: Discovery Mix is a personalized playlist that changes every week, serving up fresh songs in a mix that no one else has. Sound a little bit (OK, a lot) like Spotify's Discover Weekly? Yes. But I'm OK with that, because Spotify's feature is spot on. If Apple can replicate Spotify's success with personalization, I'll stick to Apple Music. But if Discovery Mix isn't the revitalization effort Apple Music needs, I'll have to switch back to Spotify.
Oscar: More social, less design change
Why I stick with it: One year after joining, Apple Music has introduced me to a lot of new songs, and they don't always happen to be by Drake. With competing streaming services all going after exclusives, Apple Music has a built-in advantage: the iTunes Store. Even if a new album is not streaming on Apple Music, you will most likely be able to purchase it on iTunes and seamlessly integrate it into your library. In a year when both Adele and Beyoncé released new music that did not even appear on most streaming services, this is major.
What I hate: Apple Music's greatest advantage can also be seen as its greatest flaw. On desktop, the streaming service is still tied to iTunes. What a pain.
iOS 10 change I'm waiting for: None! Even though I'm excited for the new Discovery Mix feature in iOS 10, the rest of the changes are a little off-putting. First of all, I'm not blind, so I don't need the font to take up a quarter of the screen. And I actually enjoy the UI color-matching that goes on with each album cover art. If you ask me, the original refresh that Apple Music went through last year was perfect.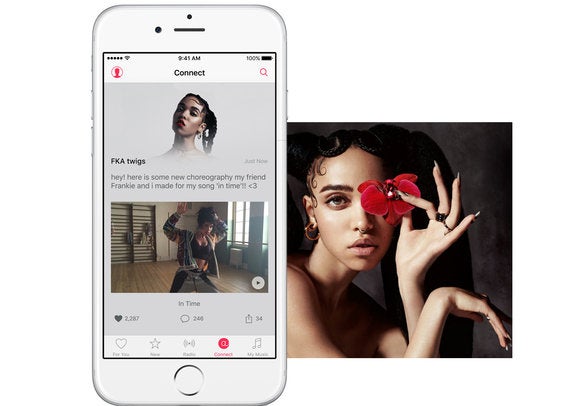 Connect is fine, but Apple Music needs more peer-to-peer social features, like playlist sharing.
Overall, Apple Music's spot-on recommendations and ability to integrate songs from the iTunes Store (and other means) outweigh any misguided visual and UX changes. And I still have a Spotify free account since a lot of my friends are now into making collaborative playlists. It's weird that Apple has not gotten into this social aspect of streaming yet. Without that, I don't think Apple Music will be a Spotify-killer anytime soon.
Leah: Ditch the UI, keep the personalization coming
Why I stick with it: Apple has kept a close eye on Apple Music since its launch last year, and as such, it keeps getting better with each small update. It's easier to navigate now than it was at launch, its playlist database keeps growing (or I'm still discovering new ones, at least), and I now use Siri more than ever thanks to Apple Music.