Apple Music 1 year in: What we love, what we hate, and why we stay
Apple's streaming service is officially old enough to know better, but still too young to care.
Apple Music has problems. From its cluttered user interface to iCloud Music Library's often confusing way of managing your music files, Apple's streaming service has taken a lot of heat. But it's also managed to rack up a not-insignificant number of subscribers, and paying ones at that. Spotify has 100 million users, but just 30 million of them pay $10 a month to use the service. Apple has 15 million paying users.
But it could win over more fans if it fixes some of its issues, and from what we've seen of iOS 10, that's exactly what Apple plans to do. A massive redesign of Apple Music with new features galore is scheduled to drop this September. Macworld staffers Leah Yamshon, Caitlin McGarry, and Oscar Raymundo have been using Apple Music since it launched last June. Here's why we can't wait for the rebooted version.
Caitlin: Apple TV app is great, playlists need work
Why I stick with it: Apple has the edge when it comes to Apple Music's integration with Apple hardware and other software, like Siri. Apple Music is the only streaming service supported by Siri, which comes in handy when I'm using the app in one of my favorite places: in my living room, using my fourth-generation Apple TV. The TV app's interface is a simplified, scaled down version of the iOS app, which makes it easy to navigate. I can use the Siri remote to search for songs or artists by voice, which is great (when Siri knows what I'm saying, which can be hit or miss).
Apple Music's upcoming redesign for the Apple TV.
Apple Music makes the Apple Watch one of the few fitness-tracking devices with local music storage, so I can save up to 2GB of playlists on the watch and go for a run without my phone.
I also love that I don't have to use separate apps to listen to albums I own versus ones I want to stream, though Apple could really handle the merging of two music libraries with more care.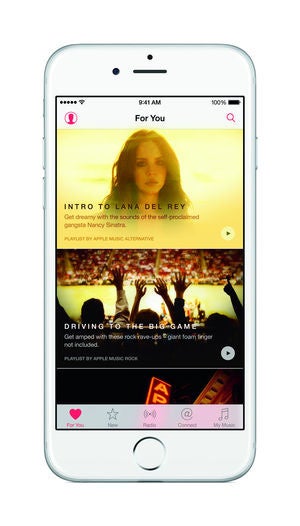 For You's playlists were great at first, but are starting to get stale.
What I hate: Apple Music is getting stale. The same human-curated playlists I loved at launch are the same ones still being served up to me a year later, which means I'm not discovering a whole lot of new (or new to me) music. The playlists are almost never refreshed, I've found. The same workout playlists that motivated me a year ago aren't doing the trick anymore. Even the radio stations I've created based around specific artists or genres play the same old songs.