Anything but PowerPoint: five fresh presentation alternatives
What application springs to mind when you think of creating visual aids to accompany your business presentation? For most people, it's Microsoft's PowerPoint. But that's certainly not the only game in town. Plenty of other tools and services are cooler, faster, easier to use, and--in almost all cases--less expensive.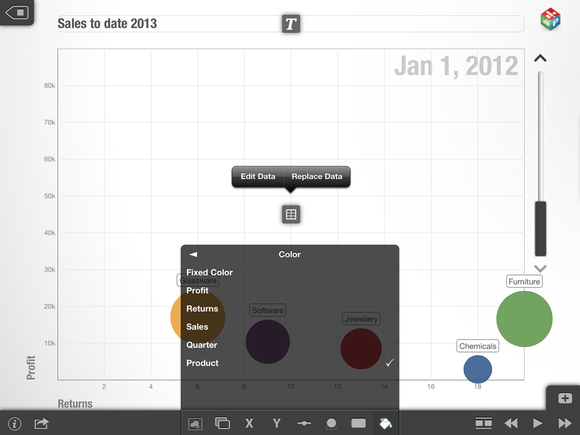 Alas, the app doesn't let you embed videos or webpages, and you can't add audio elements such as music or sound effects. You can, however, record a voice-over after your story is complete and ready for presenting. Speaking of which, you can share a snapshot from your story via email or Twitter, and a recently added Airshow option lets you share stories directly from your iPad to up to ten other iPads.
It may take you some time to learn how to use Perspective's various tools, especially for arranging elements in a scene and tweaking the data in motion charts. But it's not unlike learning PowerPoint: Once you know what you need to do, presentation-building goes pretty quickly.
Although the Perspective app is initially free, you can use it to create only one story--think of it as an app test drive. To unlock all the features and create unlimited stories, you must upgrade to Perspective Pro, which costs $50.
That's a little steep relative to some of the other tools here, but Perspective offers robust data-visualization options. And since it's entirely mobile, you needn't stay tied to a PC.
Prezi
Far too many presentations are boring, with a capital B.In many cases, it's not because the content is dull, it's just that audiences have seen enough static slideshows to last a lifetime. Prezicreates eye-catching custom animations that blow ordinary slide decks out of the water.
It works like this: You assemble various snippets of information--text, graphics, videos, and the like--onto the virtual equivalent of a giant, themed poster board. (Think PowerPoint slides splayed out on a single surface.) Instead of flipping from one page to the next, PowerPoint-style, Prezi flies around that poster board, zooming in to one area for viewing, then up, out, and onto the next.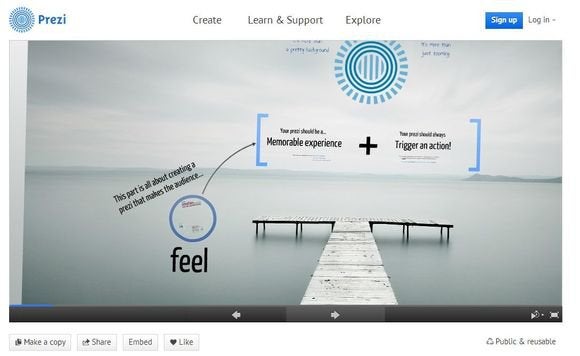 All of this happens with a dazzling, animated flow. It looks like something a professional effects shop would take weeks and thousands of dollars to create. But it's really just a Prezi template stocked with your data and some extra infographics.
Earlier this year, Prezi added a long-awaited new feature: sound. You can now include background music that plays during the presentation, or even add voice-overs or sound effects to "path steps" (the transitions between areas of the scene). That might not seem like a huge deal, but Prezi delivers such a smooth, cinematic experience, it almost begs to have a soundtrack.
Prezi has also added a creator app for iPad and a viewer for iPhone, meaning that you can build and/or make your pitches on the run. They're free, as is Prezi Basic. Upgrade options start at $59 per year.
Previous Page 1 2 3 4 Next Page