Anything but PowerPoint: five fresh presentation alternatives
What application springs to mind when you think of creating visual aids to accompany your business presentation? For most people, it's Microsoft's PowerPoint. But that's certainly not the only game in town. Plenty of other tools and services are cooler, faster, easier to use, and--in almost all cases--less expensive.
That said, once you figure out Haiku Deck's mechanics, you'll find it a great tool for building short, simple, and attractive slide decks on the run. And you can't beat the price: It's free. If you want extra themes, they're available for purchase in-app.
Kingsoft Presentation Free 2013
If you're looking for a more traditional alternative to PowerPoint, one that runs in Windows and closely emulates the standard slideshow-building process, Kingsoft offers a compelling option in Presentation Free 2013. Available separately or as part of the Kingsoft Office Free 2013 suite, this program should satisfy most of your slide-deck needs.
If you're already familiar with PowerPoint, you'll have a huge head start on Presentation Free: Its default interface borrows heavily from Microsoft's Ribbon, though it has a second interface option that closely resembles older versions of PowerPoint. It's an easy product to learn either way. Whichever interface you choose, Presentation Free has one amenable feature that still eludes PowerPoint: document tabs that make switching between multiple open presentations much easier.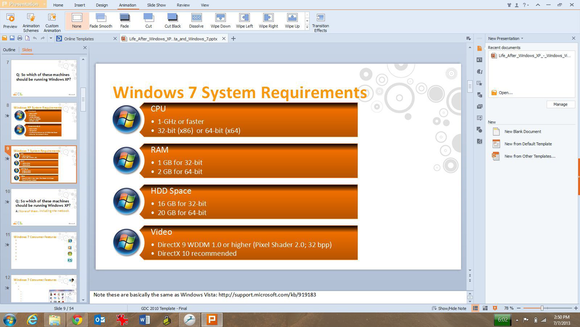 Kingsoft supplies a generous library of presentation templates that you can use as a jumping-off point, along with a nice selection of layouts, color schemes, animations, and the like. You can add a wealth of elements to your slides, everything from sounds and background music to movies and Flash animations.
Perhaps of greatest importance, Presentation Free can open existing PowerPoint presentations, including those saved in the newer .pptx format. It can save only to the older .ppt format, or to Kingsoft's native .dps format. You also have the option of converting presentation files to PDFs.
Presentation Free 2013 is without question the prettiest PowerPoint clone you can get, and save for VBA (Visual Basic for Applications) support, the free version is every bit as capable as its commercial counterpart, Office Suite Pro 2013 (which also includes word processing and spreadsheet programs).
Pixxa Perspective (iPad)
What is a presentation if not an audiovisual story? That's the idea behind the iPad app Perspective. It's a powerful tool, though it does come with a learning curve--and a price tag.
Building a story works the same as building a presentation: You create individual slides (known here as scenes) and populate them with data. For each scene, Perspective gives you a choice of image/text, diagram, various charts (bar, bubble, line, and the like), and PDF. You can also import a wealth of file types, including locally stored Excel and CSV files, the contents of the clipboard, or anything you have stored in Google Drive.
These needn't be static additions, either: Perspective's bar and bubble charts are "motion" charts, meaning that you can animate the elements to better highlight data such as sales forecasts and market trends. If you're short on artwork, the app's handy Web-search option makes it easy to find online images for your story. And for anyone serious about presenting data, Perspective supports the creation of Sankey diagrams (a specialized kind of flow diagram), though this feature requires a separate in-app purchase ($100).
Previous Page 1 2 3 4 Next Page