Android Studio for beginners, Part 1: Installation and setup
Install Android Studio and start your first Android project
Figure 18. Customize your activity
Enter W2A as the activity name and main as the layout name, and click Finish to complete this step. Android Studio will respond that it is creating the project, then take you to the project workspace.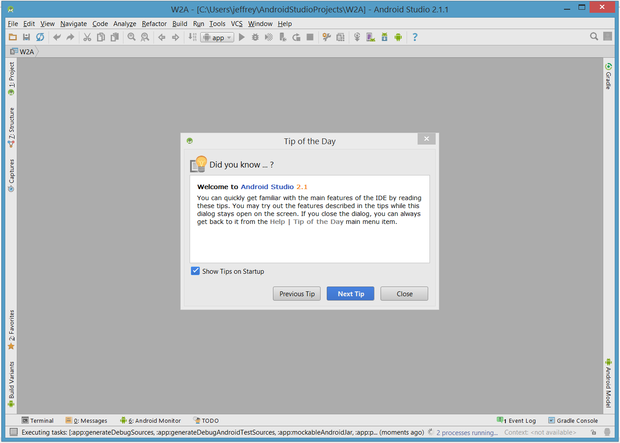 Figure 19. Android Studio workspace
The project workspace is organized around a menu bar, a tool bar, a work area, additional components that lead to more windows (such as a Gradle Console window), and a status bar. Also note the Tip of the Day dialog box, which you can disable if you like.
Accessing AVD Manager or SDK Manager from menu and tool bar
To access the traditional AVD Manager or SDK Manager, select Android from the Tools menu followed by AVD Manager or SDK Manager from the resulting pop-up menu (or click their tool bar icons).
The project and editor windows
When you enter the project workspace, W2A is identified as the current project, but you won't immediately see the project details. After a few moments, these details will appear in two new windows.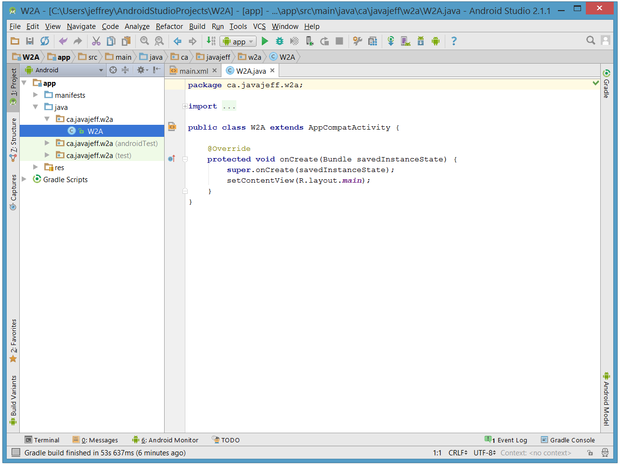 Figure 20. The project and editor windows
The project window is organized into a tree whose main branches are App and Gradle Scripts. The App branch is further organized into manifests, java, and res subbranches:
manifests stores AndroidManifest.xml, which is an XML file that describes the structure of an Android app. This file also records permission settings (where applicable) and other details about the app.
java stores an app's Java source files according to a package hierarchy, which is ca.javajeff.w2a in this example.
res stores an app's resource files, which are organized into drawable, layout, mipmap, and values subbranches:

drawable: an initially empty location in which to store an app's artwork
layout: a location containing an app's layout files; initially, main.xml (the main activity's layout file) is stored here
mipmap: a location containing various ic_launcher.png files that store launcher screen icons of different resolutions
values: a location containing colors.xml, dimens.xml, strings.xml, and styles.xml
The Gradle Scripts branch identifies various .gradle (such as build.gradle) and .properties (such as local.properties) files that are used by the Gradle-based build system.
Branch names and directory/file names
Each branch/sub-branch corresponds to a directory name or to a file name. For example, res corresponds to the res directory and strings.xml corresponds to the strings.xml file.
Conclusion to Part 1
You've installed and configured Android Studio and created a project for your first Android Studio mobile app; now you're ready to build your Android application. In Android Studio, this means populating your new project with Java source code and resource files for a mobile app. Turn to Part 2 when you're ready to get started with your first Android animated mobile app.
Previous Page 1 2 3 4 5