And the study says: Windows 8 users rarely touch Metro apps
The difference is touch: tablet and touchscreen laptop users adopted more Windows Store apps than users with non-touch displays.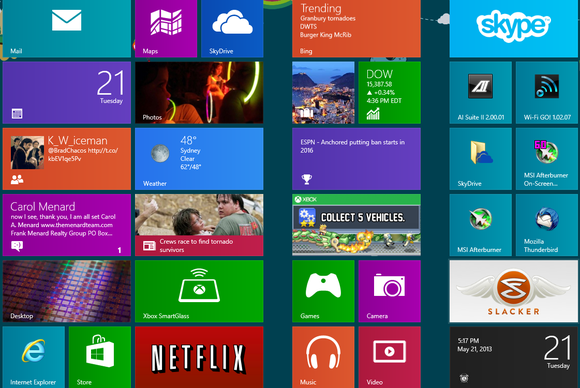 If you were going to sum up Windows 8 in a single sentence, "It's all about the apps" would do the trick. And that's why a new study from Soluto, a company that offers a remote troubleshooting tool for Windows PCs, suggests a somewhat stark reality for Microsoft's new-look operating system.
Windows 8 was rebuilt from the ground up to revolve around finger-friendly Windows apps. The modern UI Start screen is chock-full of Live Tiles generated from those apps, virtually all of Microsoft's default programs sport that oh-so-modern (a.k.a. the interface formerly known as Metro) luster, and users don't even get the option of booting straight to the desktop. You have to stare the Start screen's shiny, shifty app collection in the face every time you boot up your PC.
With that heavy a focus, Windows 8's very future hinges on the success of its apps. Soluto's report digs into how often people really use those apps on a daily basis.
The news isn't wonderful. Of the 10,848 Windows 8 devices studied by Soluto, the majority of traditional desktop and laptop users—even ones using a device with a touchscreen—fail to open a modern-style app daily. (Note that this study refers only to modern apps, not to traditional desktop programs.) Even on tablets, the devices best suited for Windows 8's modern UI, just 56 percent of all users launch a Windows 8 app day in and day out.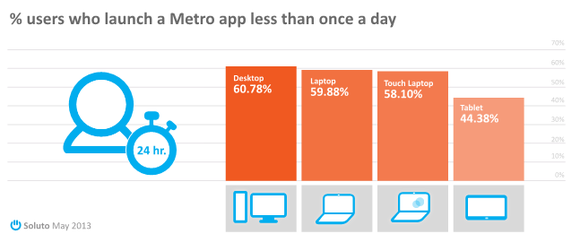 Soluto's data backs up what we've all been saying all along: Modern UI apps flat out work better on a touchscreen. Tablet users open modern apps nearly twice as frequently as desktop users, and people who rock touchscreen laptops launch modern apps 47 percent more often than their non-touch brethren.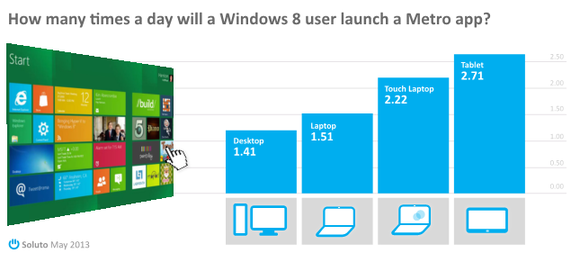 There's a big caveat here: A Soluto representative told me that all of the data used in its study was culled from Windows 8 proper, as the company's software does not yet support Windows RT. Since Windows RT tablets—like Microsoft's own Surface RT—are limited to using only modern UI apps, their app usage rates would no doubt be much higher.
Don't sweat the omission too much, though. Recent reports suggest Windows RT is languishing on the vine, with the IDC research group estimating that just 200,000 Windows RT units sold in the first quarter of the year.