AMD's low-level Mantle graphics could mean big things for PC gaming
On deck: Faster games and easier cross-platform portability—if developers use it.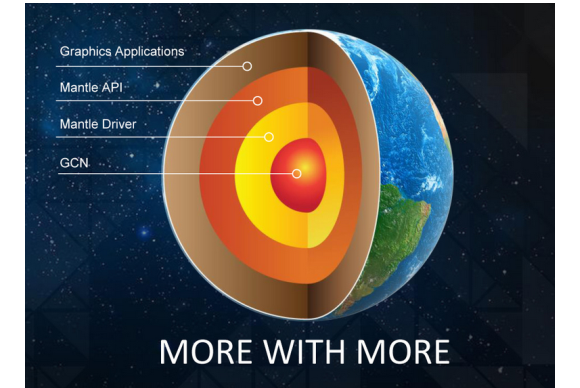 AMD's next-gen R7 and R9 series Radeon graphics cards may have gotten all the attention at the company's GPU 2014 event this week, but in the long run, a somewhat boring new technical addition may end up meaning more for AMD and PC gaming itself: the company's newly announced "Mantle" application programming interface (API).
A low-level revolution
We have to get the technical details out of the way before I can describe Mantle's potential bounties. I'll keep it brief!
Mantle takes advantage of AMD's unique position as the graphics provider for the Wii U, Xbox One, and PlayStation 4 consoles, and (some) PCs. Mantle's low-level API, paired with Mantle graphics drivers, grants developers direct access to AMD's Graphics Core Next (GCN) GPU hardware features, which allegedly allows developers to achieve a far higher level of hardware-optimized performance than is possible with OpenGL and DirectX. In fact, AMD claims Mantle can issue nine times as many draw calls per second as those "high-level," non-hardware-specific APIs. That's a major leap in performance.
Just as impressively, that programming language carries over across consoles and PCs alike—assuming said PCs are running GCN-based Radeon graphics. In short, Mantle is a clever (and aggressive) way for AMD to leverage its next-gen console wins.
"The opportunity that we see is to get that [tight, low-level] fit and level of optimization, or something close to it, in PC games," Radeon technical marketing manager David Nalasco told PCWorld when I asked him how the Radeon heart in next-gen consoles could improve PC gaming. "If you're developing a game or a game engine and want to port it over to the PC, you don't have to start over from scratch with your optimization. You're starting from a base that has CPU cores that are much more similar, GPU cores that are much more similar, and other feature sets that are much more comparable."
What that means for you is simple: better performance in games that utilize Mantle, assuming you have a Radeon graphics card or APU (accelerated processing unit). High-level APIs simply can't match the chops of low-level ones. Check out the following tweet from Johan Andersson, the technical director for the Frostbite engine that powers Battlefield 4 and other games from Electronic Arts' Digital Illusions CE (EA DICE):
"[With Mantle] there's the potential to have a better experience on a smaller card because you're not necessarily going through the size and girth of DirectX and OpenGL," says Patrick Moorhead, principal analyst at Moor Insights & Strategy and a former AMD VP. "But also, there's the potential to give you a better experience on a bigger card, in that you can take special features to the max."