Amazon Tap review: A disappointing follow-up to a great smart-home device
The need to get up and tap the Tap to get Alexa's attention defeats the purpose.
Its biggest shortcoming
Unlike Amazon's Echo, which allows for hands-free voice interaction with Alexa, you must physically push the Tap's microphone before you can ask Alexa to turn on the Hue lights in your living room, to give you a weather forecast, to play your favorite Amazon Prime Music playlist, or to do any of the other things that make Alexa so fun and useful.
The ability to accomplish such tasks using nothing more than your voice is one of the Echo's principal attractions. It's something we've dreamed of since the earliest science-fiction stories. Needing to push a button before uttering your request? That's like Scotty mistaking a mouse for a microphone needed to control that old Mac in Star Trek IV.

Unlike the Echo, the Tap requires a button-push to get Alexa's attention.
Performance as a Bluetooth speaker
After listening to a wide range of music, I found that the Tap performed best at low to mid volume. Push the volume any higher and you'll start to hear distortion. In fact, I found the music I listened to on the Tap even at middling audio levels lacked the kind of aural separation that makes me happy. "Low Life," from the X Ambassadors' album VHS, is a low-end heavy track. The Tap couldn't breathe life into the music. Bruce Springsteen's "Working on the Highway," from Born in the USA, fared a little better. I chanced turning it up about 70 percent of my iPad Pro's maximum volume. Unfortunately, when I did so, I was found that the Tap made the song sound strained and muddy.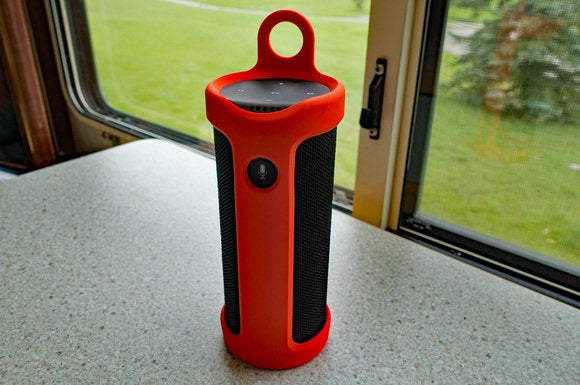 The Amazon Tap in its optional $20 silicon Sling Case, which has a loop for attaching it to a carabiner or backpack strap.
Should you buy one?
Amazon pitches the Tap as an "Alexa-enabled portable Bluetooth speaker;" in other words, a mobile Echo. It's not. Without hands-free access to Alexa, and with even more lackluster audio capabilities, the Tap is more of a digital curiosity than a virtual necessity. If you want to bring Alexa into your home, spend the extra money on the Amazon Echo. You'll be much happier with your investment.