Advancing the art of the cognitive chatbot
Frameworks are just beginning to emerge for a microservices approach to intelligent personal assistants
But if what you seek is a generalizable environment for developing cognitive-chatbot microservices, this framework has several limitations:
It doesn't address key cognitive-chatbot platform services, such as authentication, interaction, personalization, encryption, privacy, and monitoring.
It doesn't provide solution-level patterns (such as those associated with chatbot delivery of "next best action" user guidance in recommendation-engine scenarios).
It doesn't address the node-level service model (such as the sensors, solvers, and actuators found in IoT endpoints) to be implemented in the chatbot.
It fails to provide guidance for developers to choose the right types of cognitive capabilities (such as natural language processing, sentiment analysis, voice recognition, face recognition, gesture recognition, and streaming analytics) to use in various chatbot solution scenarios.
In my research, I came across this interesting chatbot functional taxonomy at GitHub by Tully Hansen that seems to address some of those requirements. However, it's specific to Twitter bots and doesn't directly address the need for a comprehensive microservices and cognitive analytics framework.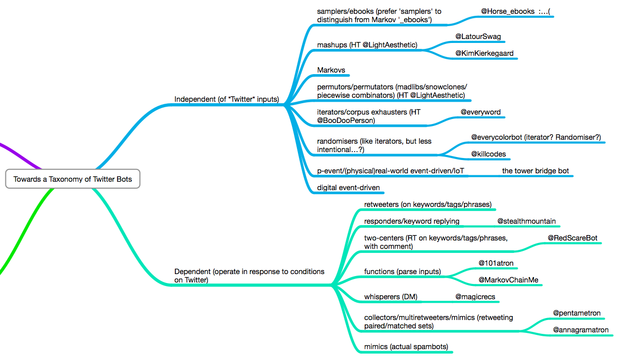 Of course, it may be a tall order to ask for a coherent development framework that can do justice to the wide range of cognitive-chatbot deployment modes. In that regard, I recently came across this alternately stimulating and amusing master list of ideas for analytics-intensive Twitter chatbot applications. Although it doesn't suggest a particular development framework to encompass these and kindred initiatives, it does point to the amazing creativity that's taken hold in the chatbot development community.
If nothing else, cognitive chatbot developers benefit from being pointed to useful guidance and online services to accelerate building and deployment of these capabilities. Here, for example, is a good discussion from Philipp Langhans on how to build these bots on Watson. And IBM has a new experimental service for building AI-powered Watson chatbots that can serve as virtual intelligent agents on several social platforms.
Innovations in cognitive chatbot technologies, algorithms, and applications are coming to market at an astonishing pace. As the space matures over the next several years and best practices crystallize, integrated development frameworks will almost certainly emerge.
Source: Inforworld