Adobe Premiere Elements 15 review: Upgrade moves consumer videographers more deeply into creative turf
From haze removal to matching musical scores, this version simplifies complex moves with baby steps.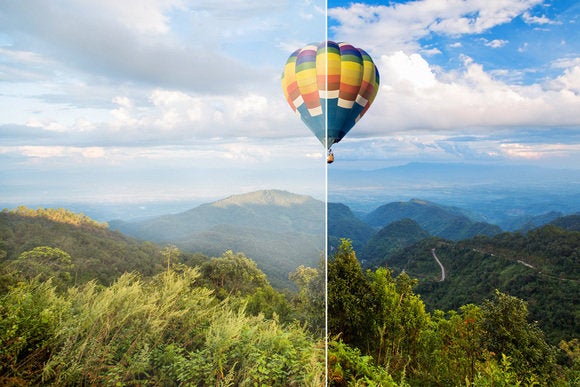 Premiere Elements, the consumer version of Adobe's pro video editor Premiere Pro, is on a mission to make videographers of us all. With version 15 of the software, there are relatively few headlining new features, but a series of solid updates will make your videos look and sound primo.
Social networking is now a prominent mode of photographic engagement for families, and with this new version, Adobe is making videos even more attractive and sharable for Facebook, YouTube, and Vimeo with a dynamic collage feature, renewed focus on people and faces, special effects across multiple clips, timing soundtracks to videos, and more.
Premiere Elements works with the Organizer, a free companion helper app that assembles and manages all your photos and videos in one interface, giving both the photo and the video app access to all assets. We talk at length about updates to the Organizer in our review of Adobe's Photoshop Elements 15. Like its facility in Photoshop Elements, you can use the Organizer in Premiere Elements to find the videos you're looking for by searching a combination of places, events, albums, favorites and more.
Like Photoshop Elements, Premiere Elements offers a series of new controls, plus a new guided edit offering instructions on how to easily accomplish complex edits and unique projects.
Let the sunshine in
Premiere Elements' new Haze Removal control will be familiar to folks who used the last version of Photoshop Elements. De-hazing, originally derived from the pro-level Photoshop CC, cuts through cloudy, hazy backgrounds to let the sharp, clear color of sky and other parts of the image shine through to boost the overall clarity of the scene.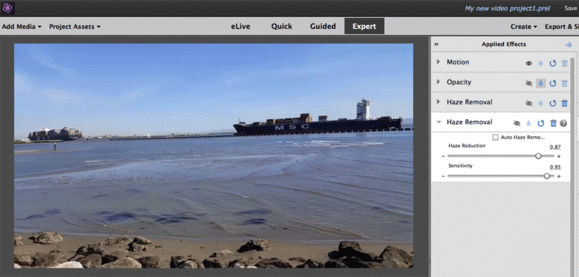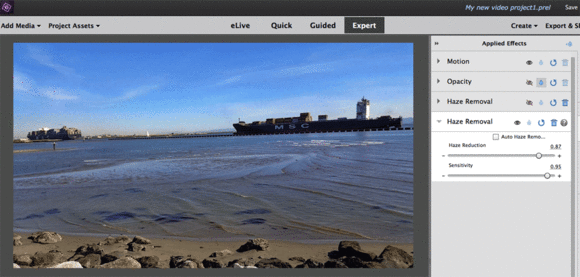 Cut through the haze to let the blue sky shine.
In Premiere Elements, haze removal is a two-step process: First you must apply the special effect by dropping it on part or all of your video timeline. Then, you can either leave it up to the software to apply automatically, or you can uncheck the auto box to adjust the Haze Reduction and Sensitivity sliders manually to achieve the effect you want.
This sort of correction comes in super handy for almost any video shot during the day, where light and weather conditions frequently wash out Mother Nature's beautiful hues.
Mix and match
There's nothing new about adding audio to your original videos, but it's always a challenge to try and match a song to the exact length of your movie. It never sounds quite right to just end something abruptly. The new version's Remix feature lets you choose any music file you own and match it precisely to the length of your movie with a simple drag and drop. The app reads through the song and trims and cuts with natural sound and transitions to just the right length as long as your video is a minute or more in length.