Adobe Audition CC (2015.2) review: Audio editing becomes more user-friendly
The new Essential Sound panel makes it more user-friendly for those getting started with Audition.
Essential Sound
Despite offering a comprehensive arsenal of audio recording, mixing, editing, and repair tools, Adobe Audition CC has traditionally been daunting for first-time users. Like the company's other pro video applications, the user interface is split across multiple panels, each with tabs providing additional functionality. If you were just getting started, it wasn't the most user-friendly experience.
Essential Sound consolidates only the most-used tools for multitrack dialogue, music, sound effects, and ambience in a single place.
Adobe has remedied this situation with the introduction of yet another panel, Essential Sound, which consolidates the most commonly-used options in a single place. From here, novice users can balance audio for a more unified sound, clean up dialogue tracks by reducing noise, rumble, hiss, or high-frequency sibilance (that annoying "ess" sound), and much more.
It's super-easy to use: Select one or more tracks in a multitrack project, then choose the type of mix you're working on—Dialogue, Music, SFX, or Ambience. Each mix type includes only what's relevant to that category, although there is some overlap such as Unify Loudness, a tool designed to keep audio clip levels balanced.
Essential Sound also incorporates unique music tools that allow audio editors to stretch or remix tracks to fit a specific length without affecting the overall pitch or tempo. Best of all, professional users can configure custom settings in a few clicks, or close the panel to work the way they're used to. Essential Sound doesn't offer new tools, but rather a new way of working, and a level of simplicity sorely missing in earlier versions.
Direct export
The second new feature in Adobe Audition CC 2015.2 is also long overdue, considering it's been available in other members of the Creative Cloud video lineup for some time. Rather than exporting a final audio mix and importing it into Premiere Pro CC for output, Audition CC users can now directly export entire projects (complete with video) in the same step.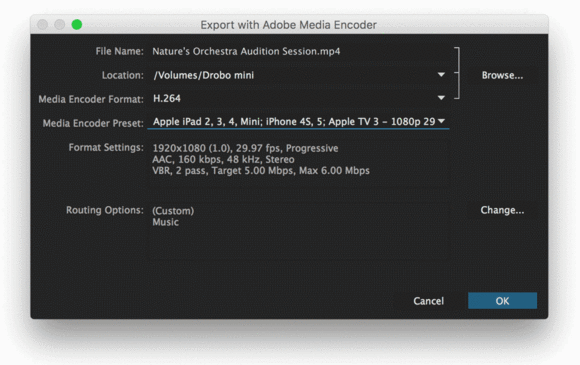 The new Export with Adobe Media Encoder option saves video editors from having to send mixes back to Premiere Pro CC.
This is made possible by a new Export with Adobe Media Encoder option in the File > Export menu. When summoned, Media Encoder CC launches (assuming it's not already open), sharing available formats and presets with Audition. After clicking OK, the project is added to the Media Encoder queue, where it begins rendering automatically in the background.
If you're juggling several projects at once or want to export variations with specific tracks isolated, Media Encoder allows you to continue working in Audition or Premiere Pro while rendering. It's also easy to tell which projects originated in Audition, since the app's icon appears next to the project name.