7 things marketing pros need to know about chatbots
Digital marketing experts share insight and advice on how CMOs and other marketing pros can get started with — and make the most of — chatbots.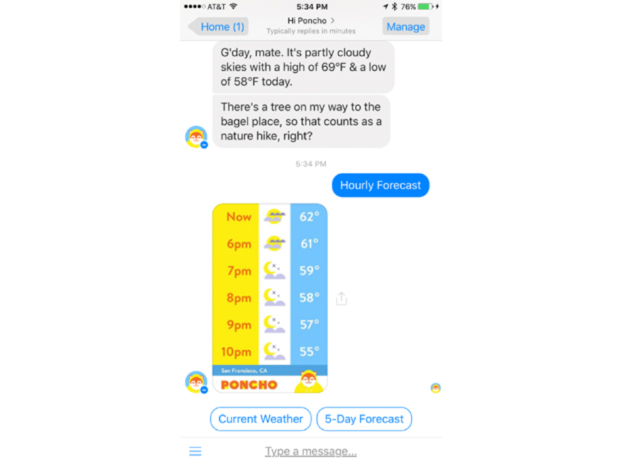 Poncho chatbot
Mattress startup Casper built a chatbot for insomniacs, called Insomnobot-3000, as well, and it is only available for between 11 p.m. and 5 a.m.
Casper's service is a successful example of marketing via chatbot, according to Erez Baum, cofounder and CEO of brand-chatbot developer Imperson. "Because the Casper chatbot has everything to do with sleep, or the lack of it, it reinforces their brand," he says. "Casper isn't trying to fool people into thinking they're speaking with an actual human. Rather, the point is simply to get them to have fun conversing with Insomnobot about Seinfeld reruns, midnight munchies, and other things it likes to bring up."
3. Chatbots are not new
Consumers have been using chatbots for years, according to Schlicht. When you call an airline, bank, health insurer or other company, for example, you're often greeted by an "automated attendant." That attendant, or bot, aims to help deliver the information you seek by prompting you for certain commands. These types of interactions usually don't result in great customer experiences, he says, because consumers often navigate through multiple phone-tree layers only to be put on hold — or have their calls dropped.
In comparison, interactions with brands via messaging-app chatbots are visual and more immediate. When you ask questions, for example, chatbots can deliver information to provide answers, such as a video or photo, according to Schlicht. Customers don't have to waste time on phone trees or worry about the call drops. Chatbots can potentially deliver much more satisfying engagements with customers, he says.
4. Rise of messaging apps boosts chatbots
Messaging apps are among the most popular mobile apps today, and that helps raise awareness of messaging-app chatbots. "There are more monthly active users of messaging apps than social networking apps," wrote Jim Tomanchek, a social media and mobile advertising executive, on AdWeek.com. The top four messaging apps (Facebook's WhatsApp and Messenger, WeChat and Viber) have nearly 3 billion users combined, Tomanchek wrote, compared to about 2.5 million for today's popular social network apps.
"[R]esearch shows that mobile messaging users are loyal, or at the very least, 'always on,'" Tomanchek wrote. "Messaging apps are used almost nine times a day, five times the average for all mobile apps. A month after installation, messaging apps have nearly double the retention rate of the average for all apps: 68 percent versus 38 percent. A year later, users launch 62 percent of downloaded messaging apps at least once."
While messaging app use is on the rise, "the app boom" overall "is over," according to Recode.net. In May 2016, the top 15 app publishers saw a 20 percent decline in downloads on average, according to Recode, which cited data from app-tracking firm SensorTower.
Previous Page 1 2 3 4 Next Page