7 things marketing pros need to know about chatbots
Digital marketing experts share insight and advice on how CMOs and other marketing pros can get started with — and make the most of — chatbots.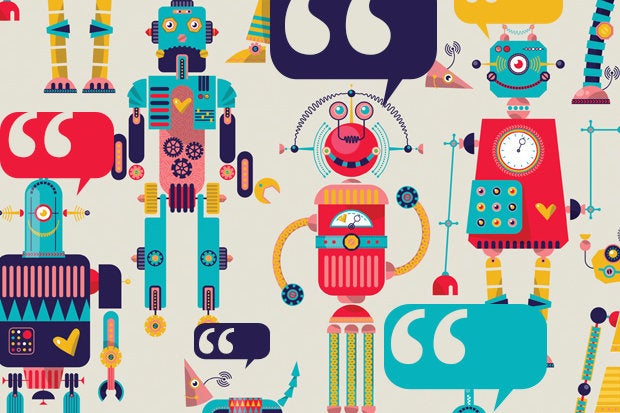 Earlier this year, chatbots were barely a blip on the tech world's radar. Then, at Facebook's F8 developer conference in April, the company announced that its Messenger app would soon feature chatbots from brands including CNN and 1-800-Flowers. Seemingly overnight, chatbots became the "next big thing" in tech and the object of endless media coverage. Other messaging platforms, such as Kik, Line and Telegram, are also experimenting with chatbots developed by third-party companies. And Talkabot, a bot-related conference, took place in Austin in late September.
Here are seven things CMOs and other digital marketing professionals need to know about chatbots.
1. Two main types of chatbots
"A chatbot is a service, powered by rules and sometimes artificial intelligence, that you interact with via a chat interface," according to ChatbotsMagazine.com.
Two main types of chatbots exist today. First are chatbots designed to serve one or more purposes for a business, says Matt Schlicht, founder and editor of ChatbotsMagazine.com. These chatbots are typically found in messaging apps. The 1-800-Flowers chatbot on Facebook Messenger, for example, is designed to help consumers choose a floral arrangement and send it to someone.
Similarly, chatbot platforms also exist, any they are virtual assistants such as Apple's Siri, Google Assistant, Amazon's Echo and Alexa, and Microsoft's Cortana, according to Schlicht. These chatbots help users with a variety of information and other needs, instead of helping consumers interact with specific brands.
2. Chatbots for ecommerce, customer service, travel — and insomnia
Messaging-app chatbots provide basic communications, ecommerce features, travel planning and more. The Botlist website offers a useful directory of chatbots organized by platform and category.
Chatbots today are widely used by brands to drive ecommerce, especially among younger consumers. Chatbots "have the potential to inspire purchases and increase the number of items in people's shopping carts," says Michael Klein, director of industry strategy, retail for Adobe. While chatbots "can lessen the load of a customer service team and sales associates, the bigger opportunity maps back to personalization and engagement," Klein says. "Look at Amazon's Echo, for example. Echo ushered in the wave of conversational commerce, making it easy for people to simply ask for what they need."
Other notable messaging-app chatbots include the following: