6 data analytics success stories: An inside look
CIOs are embracing data analytics to fuel efficiency and growth, but not every effort produces results. Here's how leading CIOs are successfully tapping data analytics and machine learning to boost revenues or cut costs.
Monsanto taps machine learning for optimal planting plans
Farmers are forever agonizing over which seeds to plant, how much, where and when. Seed giant Monsanto is on the case, using data science to make prescriptive recommendations for planting. Mathematical and statistical models to plot out the best times to plant male and female plants and where to plant them, ideally to maximize yield and reduce land utilization. Its machine learning algorithm churns through more than 90 billion data points in days, rather than weeks or months, said Adrian Cartier, director of global IT analytics at Monsanto. The business benefits? In 2016, Monsanto saved $6 million and reduced its supply chain footprint by 4 percent. "In North America, a 4 percent land utilization reduction equates to a lot of land not being used and a lot money saved," Cartier said.
Lessons learned: The key for Monsanto was instilling a "cradle to grave" collaboration between IT and the supply chain business. "Their domain expertise from an agricultural and supply chain perspective, married with our domain expertise of mathematics and statistics created the value that we were able to deliver," Cartier said. Cartier said he also sought out "change leaders and advocates" within the supply chain business to offset the healthy balance of naysayers.
For Pitt Ohio, predictive analytics delivers success
The freight industry is under fire from the so-called "Amazon Impact," said Scott Sullivan, CIO of Pitt Ohio. Pitt Ohio, a $700 million freight company, had gotten used to picking up freight and delivering it to customers the next day. But thanks to Amazon, customers are increasingly expecting same-day delivery. And they expect more information about their packages.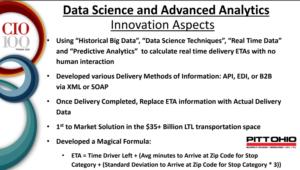 Data science and advanced analytics at Pitt Ohio. Credit: CIO 100 Symposium (Click for larger image).
"Customers now want to know not only when it will be picked up but how it will be delivered so they can plan their workload," Sullivan said. Using historical data, predictive analytics and algorithms that calculate a variety of freight weight, driving distance and other factors in real time, Pitt Ohio can estimate the time the driver will arrive at a delivery destination at a 99 percent accuracy rate. The company estimates that it has increased revenue through repeat orders (estimated at $50,000 per year) and reduced the risk of lost customers (estimated at $60,000 per year).
Lessons learned: Sullivan says it was a cross-departmental affair involving market research, sales operations and IT, all of whom checked and re-checked results to make sure they were accomplishing their objectives. "There's a lot of data within your four walls — be innovative and look for challenging ways to use it," Sullivan said.
Previous Page 1 2 3 4