6 data analytics success stories: An inside look
CIOs are embracing data analytics to fuel efficiency and growth, but not every effort produces results. Here's how leading CIOs are successfully tapping data analytics and machine learning to boost revenues or cut costs.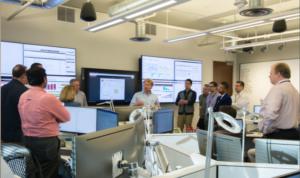 Bechtel's big data center of excellence. Credit: Bechtel
Zierhoffer met with industry peers at Wal-Mart, Boeing and Lockheed Martin to gain insights about how to move forward. The company built a big data center of excellence, in which sits a data lake comprising 5 petabytes of data, and started a proof-of-concept. It used photo recognition technology to inspect and label photos of sites on behalf of customers, saving $2 million. Natural language processing (NLP) tools parse claims, RFPs and contracts. Estimates and plans that once took days and weeks now take hours. Bechtel has also expanded the analytics efforts to look at staff retention, including trying to anticipate when employees may leave. "We believe we are knocking on the door of that challenge in productivity," Zierhoffer said.
Lessons learned: Data silos and quality are a bear. Although Bechtel can analyze large volumes of data, the quality of the data located all over the business must be improved. "We had to disrupt ourselves and looked at how we work and bridge data siloes."
RRD's road to new business, thanks to machine learning
Some years ago RRD, the marketing communications company formerly known as R.H. Donnelley, opened a logistics division to ship its print materials to consumers and businesses. To support the business, it managed loads for itself and shipped anything from washing machines to dog food on behalf of its partners, eventually growing to a $1 billion enterprise. The challenge? Finding optimum shipping rates in a world where FedEx and UPS were the undisputed kings.
Variables such as weather, geography, drivers and political climates cost its business. With the pressing need to predict rate variables, RRD turned to machine learning and analytics, said Ken O'Brien, CIO of RRD. It hired staff and universities to help write algorithms, testing thousands of scenarios across 700 routes until it was able to anticipate freight rates in real-time — seven days in advance at a 99 percent accuracy rate. "The project paid for itself in under a year and we're still seeing growth in that business related to freights," O'Brien said. The company projects that in 2017 its truckload brokerage business will grow from $4 million to $16 million, a $12 million increase in revenue against a $600 million business.
Lessons learned: New enterprises require a high-level commitment, though O'Brien admits that some of his business peers were ready to throw in the towel at various points along the way. The business didn't trust the technology for a process that was typically done by feel and guesswork. RRD set up a collaborative environment in which business and IT worked together to influence the outcome. "You will stumble, you will have challenges, but be patient," O'Brien said.
Previous Page 1 2 3 4 Next Page