5 Apple TV fitness apps to get in shape on a budget
There are tons of streaming TV apps, but I'm on the hunt for a streaming workout app that won't cost a fortune.
Finding an app that met all those standards seemed impossible, but I gave it a shot.
The contenders
I chose five apps that met at least some of my criteria, the most important being the variety and quality of workout videos at a decent price point. After spending some time with Zova, Beachbody On Demand, Grokker, DailyBurn, and Cody, I realized Apple TV has huge potential for health and fitness apps, though it's not quite there yet.
Zova has a lot going for it. It was one of the first tvOS fitness apps and came recommended by Apple. Zova also offers tons of free video content, and even has Apple Watch integration so you can see your heart rate on your TV screen as you work out. Unlocking the premium workouts costs $8 a month, which is less than my Apple Music subscription. But many of the videos are short, at 15 minutes or less, and there's no instruction. You just watch a fitness model demonstrate each move wordlessly. The soundtrack is the same uptempo instrumental no matter which video you watch, so a slow stretch session gets the same musical treatment that a cardio workout does. You can always mute the TV and listen to your own tunes, but it's not ideal. Zova will do in a pinch, and I expect it to improve, but I haven't gotten much out of it.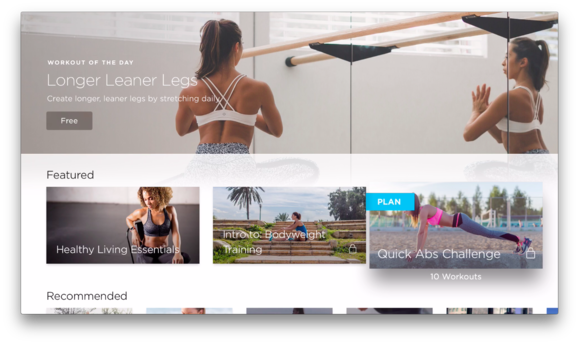 Zova has lots of free videos, but I didn't find them very challenging.
I also tried Beachbody On Demand, which brings popular Beachbody-branded workouts like Insanity and P90X to the Apple TV. If you're into hard, intense workouts, the Beachbody app might be what you're looking for. It offers video series like TurboFire and Brazil Butt Lift from familiar fitness personalities like Shaun T. I'm not really into the Insanity or P90X type of workout, so this app wasn't what I was looking for, but at $15 a month (with a free 1-month trial), it might be a great solution for someone else. Just a note: There is no corresponding iPhone app, and signing up for Beachbody on the Apple TV app doesn't give you the same perks, like a coach and nutrition guides, that signing up on the Beachbody website does.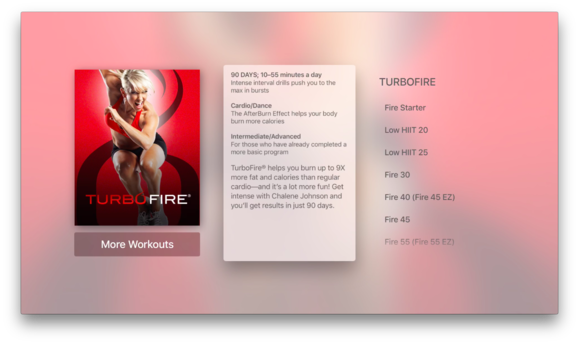 Beachbody's workouts aren't for me, but lots of people love them.
Grokker is a yoga-leaning app that also serves up nutritional plans and cooking videos. There's nothing I love more than watching Food Network or Cooking Channel on TV, so I thought this might be the app for me. But it turns out I don't really want a Winter Veggie Soup tutorial video sandwiched next to the Advanced Core Pilates class I'm trying, though I'm sure it's delicious (the soup, not the Pilates). That Pilates class did the trick, though—my muscles throbbed in pain for a full two days afterward. I liked Grokker's mix of yoga with other types of strength-training and core workout videos, and you can schedule workouts on the in-app calendar so you don't forget which ones you wanted to do. The free trial is also a plus—you get 1 week free with a monthly subscription at $15 per month, or 1 month free with an annual subscription of $120 per year, with a dozen free videos to try if you're low on cash.