Why GoDaddy built its search engine from scratch
GoDaddy, seeking to improve customer service, built a custom search engine that generates domain names on the fly for its small business customers. Building it wasn't the best option, the company's executives say. It was the only option.
Beadnall says the engineering feat required GoDaddy to create search crawlers that can traverse hundreds of international registries, including in South Africa and Indonesia, generating tens of thousands of potential domain names in near real-time. The company also built machine-learning algorithms, in conjunction with open source Hadoop data processing software, to help surface the best domain names it can.
For example, a user searching for "apple" may also be interested in seeing synonyms, or similar fruit-oriented results, such as "orange." Domain searches incorporating numerals are also popular, prompting GoDaddy to plan for creative number patterns. "The whole point of building the [custom] search system is to get you to a name that you can buy and will want to buy," Beadnall says.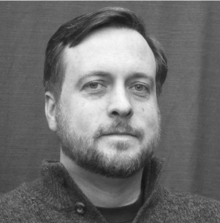 Charles Beadnall, GoDaddy's vice president of engineering.
The domain name guessing game
The biggest challenge is accounting for the various permutations of search models, which are based on such demographics as income level, language, countries, as well as the popularity of top-level domains. GoDaddy's software must divine what's going sell in what market, as well as what will be appropriate for a specific searcher.
Beadnall, who helped launch the revamped search engine in April 2014, says the software is continuously upgraded, including anything from performance tuning to enabling speedier search to different ranking models. "It takes less than a minute to deploy it, and less than a minute to pull it back," if something falls apart, he says.
The search challenge corresponds directly to GoDaddy's ambitions. Just a few years ago, the company restricted its service to the U.S. for such mainstay domain spaces as .com, .net and .edu. GoDaddy, which owns 300,000 domain names and has more than 61 million domains under management, is trying to address various name permutations associated with 350 different name spaces, including anything from .guru to .nyc, for 30 markets in 17 languages, with plans to launch in 11 markets in Asia next year.
"It went from a reasonably simple problem to complex problem really fast," McLaughlin says. "[Search] is a core competency we need to own."