Why enterprises are embracing rogue IT
IT departments used to fear employees walking through the door armed with smartphones, tablets and personal cloud storage accounts. But much of that initial fear has subsided, as companies realize embracing rogue IT can lead to better collaboration with IT and more productivity from business teams.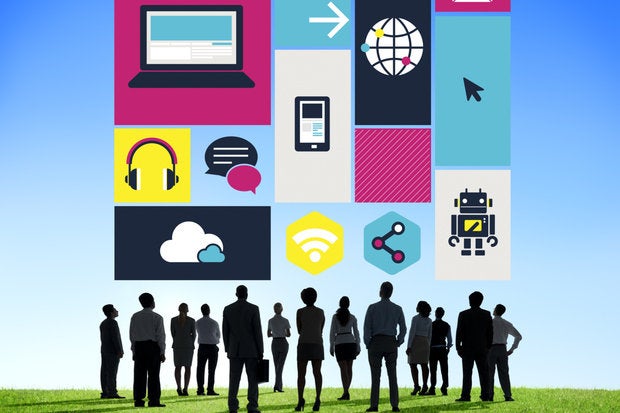 Rogue IT, a term used to describe something as commonplace as an employee bringing a smartphone to work or using a cloud-based service to back up files, exists for many reasons. Sometimes it's because the software offered by a company doesn't offer enough features -- maybe an employee can't send an attachment to a client so they turn to Gmail or Dropbox. Other times, it's simply a result of technology's place in our everyday lives -- most people don't think twice about using their smartphone on the company Wi-Fi.
Rogue IT has presented problems at companies for as long as employees have been bringing their own devices to work. Businesses have a hard time telling employees they need to leave their smartphones or tablets at home, and even the most tech savvy of workers won't consider the potential security threats of using their personal Dropbox account at work.
It's also difficult for IT departments to control, especially as consumer tech gadgets become more ubiquitous. Plenty of workers now carry mini computers on their wrist as well as their pocket. But what's most interesting about rogue IT is that just a few years ago, headlines pointed to the dangers of rogue IT posed from the lack of security and potential for data breaches. But now IT departments are noting rogue IT can promote collaboration and company efficiency.
Better insight into how the company operates
Originally, IT was concerned with the security threat of employees using personal accounts and hardware to access company data. IT departments were nervous about the possible repercussions of services and apps that they couldn't easily regulate. But now, IT departments are finding it's possible to use instances of employee negligence as use cases to figure out how to better protect the business from more dangerous outside threats.
"These incidents usually cause companies to figure out a way to build a better process and incorporate better IT management that will minimize their risks. For example, disabling USB drives on devices as a result of someone losing some documents on a USB stick left at a coffee shop," says Thomas LaRock of SolarWinds.
LaRock goes on to point out that a hack or security breach from an outside source can ultimately be more malicious and expensive, than an employee using Dropbox at work. IT can mitigate external risks by learning from an employee's use of third party resources.
Related Stories:10 things you need to know about bi-modal IT
You can't control everything
Even if an IT department is on the top of its game, it's nearly impossible to prevent every security threat. Instead of viewing rogue IT as a threat, LaRock says these occurrences are actually "opportunities to improve." Businesses can get a better look at their own security measures with less risk than if they figured it out after a major hack.