What's the difference between MDM, MAM, EMM and UEM?
Here's how to manage corporate PCs, laptops, smartphones and tablets, whether they're company owned or not
Compared to MDM and MAM, unified endpoint management (UEM) covers all hardware in an enterprise in one strategy.
Unified Endpoint Management
UEM allows IT to remotely provision, control and secure everything from cell phones, to tablets, laptops, desktops and now, Internet of Things (IoT) devices.
UEM can manage devices across a variety of platforms, theoretically, at least, making it easier to lockdown hardware and protect critical data. Although it is still a nascent IT strategy, and it lacks a full set of comprehensive tools, that situation is quickly changing.
For example, many of the basic application and system provisioning functions required for business laptops and PCs running Windows 10 can now be done through the OS's EMM control consoles, which are enabled by Microsoft's Intune protocol. That means organizations with more recent Windows PC deployments can use consolidated management tools and unified policy and configuration platforms via UEM.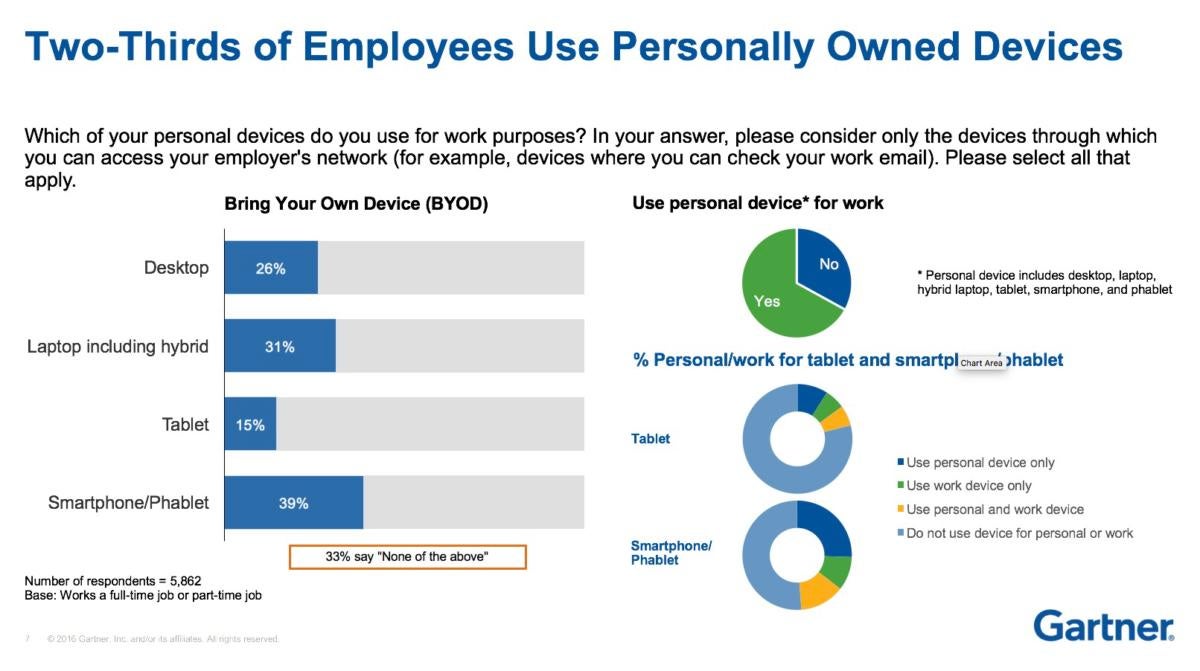 Click for larger image. Credit: Gartner
UEM tools are rapidly becoming more advanced and can manage a variety of mobile devices and PCs with a single platform, said Phil Hockmuth, program director for Enterprise Mobility research at IDC.
"Some vendors are further along than others in terms of a full set of features and having the broadest set of devices supported," Hockmuth said. "Most vendors can manage Windows 10 equally well at a base level, as they all access a common set of APIs and management hooks in the OS for MDM-based management."
Vendors including VMware, MobileIron, BlackBerry and others are starting to add features to secure and manage Windows and other types of endpoints such as Chromebooks and IoT devices. Though adoption has been spotty, a lot of pilot programs are under way and the technologies are converging; that paves the way for companies preparing to dig into their UEM deployment plans, Hockmuth added.
In the same way UEM brings hardware under a single management strategy, enterprise mobility management (EMM) is aimed at all of the various software management tools under a single umbrella.
EMM defined
EMM is a comprehensive, hardware-agnostic method of remotely managing devices, including their configuration and the enterprise content generated on them, through MDM and MAM. EMM is all-encompassing; it can control access to corporate apps, internal websites and even the data silos associated with them.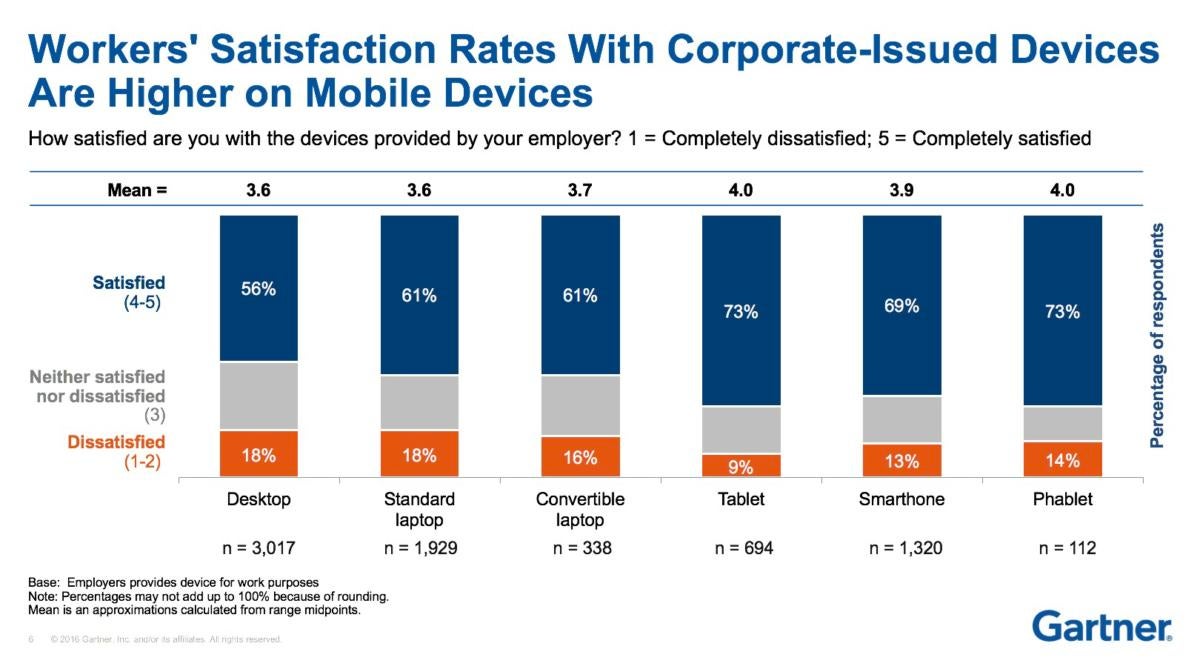 Click for larger image. Credit: Gartner
Even as mobile device adoption in the enterprise has grown over the past decade, it hasn't peaked yet, according to an analysis by Gartner.
A Gartner online survey done between June and August 2016 and involving 9,592 respondents in U.S., U.K. and Australia found:
Eighty percent of employees consider PCs (desktops, notebooks and two-in-ones) as a main work device, regardless of whether they are corporate-issued or personally owned.
Only 12% of employees receive corporate-issued tablets.
The majority of smartphones used at work are personally owned, and only 22% of employees are given company-issued smartphones.
Those who get corporate smartphones and tablets are more satisfied with the device than users of company-issued PCs.
Tablets are the least-used device at work, as only 21% of respondents use them, including corporate-issued and personally owned ones.
Two out of three workers use their own devices, including desktops, laptops, hybrid laptops, tablets, smartphones and phablets.