What Facebook's Mark Zuckerberg said in Mandarin that so impressed the Chinese
The Facebook CEO spoke in Mandarin for almost half an hour in a talk at a Chinese university on Wednesday.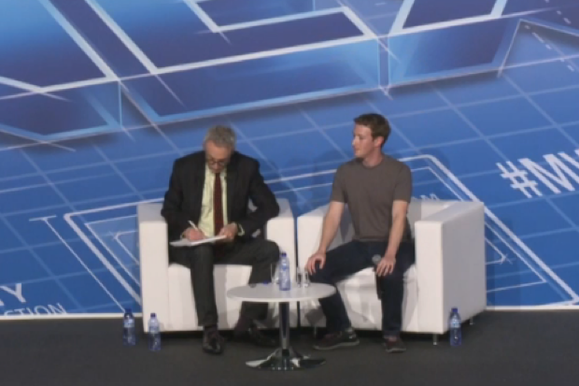 Facebook's CEO Mark Zuckerberg stunned many Chinese on Thursday, not with a new Facebook feature, but because he spoke and answered questions in Mandarin for almost half an hour.
Zuckerberg gave a talk in Chinese at Tsinghua University on Wednesday, and later posted a recording of the event to his Facebook page. The video quickly spread online, generating much surprise and praise from local Internet users.
"Such an awesome person is learning Chinese, why is my own English so bad," wrote one user on Chinese social networking site Sina Weibo.
Zuckerberg spoke with a strong accent, but handled the language confidently enough to impress the Chinese. Increasingly, executives from the biggest tech companies in the world are visiting the country, but rarely do they speak in Mandarin, let alone for such a long period, or field questions from the audience.
However, Zuckerberg has been studying Chinese, something he mentioned as far back as 2010. During his talk at Tsinghua University, he discussed his interest in China, his future goals for Facebook, and even cracked a joke about his Mandarin language skills. Here are some takeaways:
Why he learned Chinese
"The first reason is my wife [Priscilla Chan] is Chinese. Her family speaks Chinese, and her grandmother only speaks Chinese," Zuckerberg said. "When Priscilla and I decided to get married, I told her grandmother using Chinese. She was really shocked."
His plans for his visit to China
"I think the students at Tsinghua University are very good. Facebook has over 140 alumni from Tsinghua," he said, adding. "Every year we come to China to hire from the best cities. Last month, we hired 20 Chinese students." Zuckerberg has visited China four times.
Advice for Chinese students wanting to create a startup
"The best companies are created not just because an innovator wanted to create a company. It's because the innovator wanted to change the world," Zuckerberg said.
Asked what the secret to his success was, Zuckerberg replied, "Most innovators will give up, but the best innovators do not. So believe in your mission. Don't give up. This is very important."
On China's tech scene
"I think China has many of the world's most innovative companies. Last night I ate with Xiaomi's Lei Jun," he said, referring to the CEO of Chinese smartphone maker Xiaomi, which has quickly become one of the country's biggest handset makers.
"Xiaomi is a very innovative company. They have developed many different products very fast," Zuckerberg said. He also pointed to social networking products from Chinese Internet giant Tencent as another example, and said he was impressed with the e-commerce site Taobao from Alibaba Group.