Trump's 'extreme' anti-terrorism vetting may be H-1B nightmare
Many people from 'dangerous and volatile regions' work in the U.S. on H-1B visas, and Trump's plan would penalize these workers because of birthplace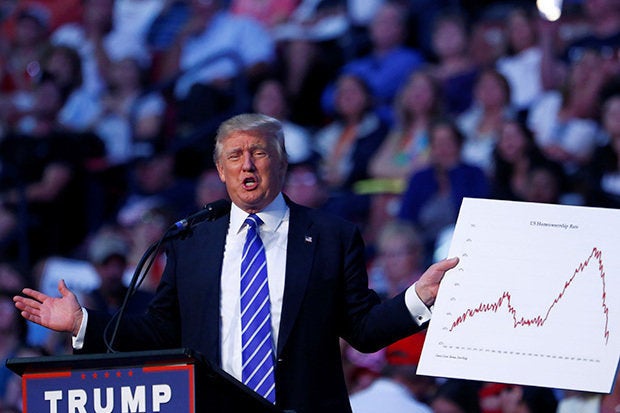 Donald Trump's call for "extreme vetting" of visa applications, as well as the temporary suspension of immigration from certain countries, would raise fees and add delays for anyone seeking a visa, including H-1B visas, immigration experts said.
In particular, a plan by Trump, the Republican presidential candidate, to stop issuing visas -- at least temporarily -- "from some of the most dangerous and volatile regions of the world" may make it difficult for a significant number of people to get visas.
Data assembled by Computerworld through a Freedom of Information Act request shows foreign workers come from all corners of the world, including "dangerous and volatile regions." Trump outlined his immigration enforcement plan in a speech Monday.
In 2014, the U.S. approved more than 370,000 H-1B applications. Some were new entries, and others were for previously approved workers who were either renewing or updating their status.
Of that number, 2,234 of the H-1B visa holders were from Pakistan, a country that might appear on a Trump list. Another 1,102 approved visa holders were from Iran. There were 658 H-1B visa holders from Egypt, and 256 were from Syria. (Article continues below chart.)
Country of Birth for H-1B Visa Holders
| | |
| --- | --- |
| INDIA | 262,730 |
| CHINA | 29,936 |
| CANADA | 7,653 |
| PHILIPPINES | 6,055 |
| KOREA, SOUTH | 5,024 |
| UNITED KINGDOM | 3,822 |
| MEXICO | 3,216 |
| TAIWAN | 2,785 |
| FRANCE | 2,570 |
| JAPAN | 2,268 |
| PAKISTAN | 2,234 |
| NEPAL | 1,997 |
| GERMANY | 1,895 |
| TURKEY | 1,850 |
| BRAZIL | 1,831 |
| ITALY | 1,497 |
| COLOMBIA | 1,491 |
| RUSSIA | 1,461 |
| VENEZUELA | 1,432 |
| SPAIN | 1,329 |
| IRAN | 1,102 |
| NIGERIA | 1,015 |
| ISRAEL | 949 |
| IRELAND | 932 |
| KOREA | 813 |
| UKRAINE | 795 |
| ARGENTINA | 778 |
| MALAYSIA | 771 |
| SINGAPORE | 755 |
| VIETNAM | 695 |
| EGYPT | 658 |
| ROMANIA | 648 |
| BANGLADESH | 647 |
| INDONESIA | 637 |
| SRI LANKA | 608 |
| PERU | 583 |
| POLAND | 576 |
| AUSTRALIA | 564 |
| GREECE | 556 |
| SOUTH AFRICA | 547 |
| HONG KONG | 503 |
| BULGARIA | 477 |
| THAILAND | 476 |
| LEBANON | 462 |
| JAMAICA | 461 |
| KENYA | 437 |
| NETHERLANDS | 432 |
| JORDAN | 415 |
| CHILE | 395 |
| SWEDEN | 374 |
| NEW ZEALAND | 353 |
| GHANA | 341 |
| TRINIDAD AND TOBAGO | 333 |
| ECUADOR | 302 |
| SYRIA | 256 |
| PORTUGAL | 253 |
| SWITZERLAND | 249 |
| BELGIUM | 238 |
| DOMINICAN REPUBLIC | 231 |
| SAUDI ARABIA | 205 |
| ZIMBABWE | 205 |
| HUNGARY | 203 |
| Spain | 189 |
| AUSTRIA | 179 |
| UNKNOWN | 179 |
| DENMARK | 174 |
| HONDURAS | 171 |
| COSTA RICA | 165 |
| UNITED ARAB EMIRATES | 155 |
| BOLIVIA | 150 |
| CZECH REPUBLIC | 149 |
| GUATEMALA | 149 |
| EL SALVADOR | 147 |
| SERBIA AND MONTENEGRO | 142 |
| KUWAIT | 141 |
| MOROCCO | 138 |
| ETHIOPIA | 133 |
| CAMEROON | 126 |
| FINLAND | 125 |
| BAHAMAS | 123 |
| MOLDOVA | 111 |
| KAZAKHSTAN | 108 |
| SLOVAK REPUBLIC | 103 |
| CROATIA | 102 |
| NORWAY | 102 |
| ARMENIA | 101 |
| UZBEKISTAN | 101 |
| PANAMA | 99 |
| URUGUAY | 94 |
| ALBANIA | 88 |
| UGANDA | 88 |
| USSR | 87 |
| Serbia | 86 |
| LIBYA | 84 |
| MONGOLIA | 83 |
| TANZANIA | 83 |
| BURMA | 76 |
| NIGER | 74 |
| LITHUANIA | 70 |
| GEORGIA | 66 |
| GRENADA | 58 |
| SENEGAL | 58 |
| BARBADOS | 57 |
| MACEDONIA | 56 |
| LATVIA | 54 |
| AZERBAIJAN | 52 |
| BOSNIA-HERZEGOVINA | 51 |
| CYPRUS | 51 |
| ST. LUCIA | 51 |
| IRAQ | 50 |
| SLOVENIA | 50 |
| BELIZE | 48 |
| ICELAND | 47 |
| ZAMBIA | 47 |
| GUYANA | 45 |
| NICARAGUA | 45 |
| PARAGUAY | 45 |
| BAHRAIN | 43 |
| TUNISIA | 43 |
| ALGERIA | 42 |
| MAURITIUS | 42 |
| DOMINICA | 40 |
| USA | 39 |
| ESTONIA | 35 |
| KYRGYZSTAN | 34 |
| HAITI | 30 |
| RWANDA | 28 |
| BURKINA FASO | 26 |
| MACAU | 25 |
| TURKMENISTAN | 25 |
| CAMBODIA | 24 |
| COTE D'IVOIRE | 24 |
| TAJIKISTAN | 24 |
| CONGO | 22 |
| ST. KITTS-NEVIS | 22 |
| SUDAN | 22 |
| MALAWI | 21 |
| OMAN | 21 |
| ST. VINCENT/GRENADINES | 21 |
| MALI | 20 |
| ANTIGUA-BARBUDA | 19 |
| BOTSWANA | 18 |
| IVORY COAST | 18 |
| BERMUDA | 17 |
| BENIN | 16 |
| AFGHANISTAN | 15 |
| Kosovo | 15 |
| QATAR | 15 |
| LUXEMBOURG | 13 |
| MADAGASCAR | 13 |
| Montenegro | 13 |
| YEMEN-SANAA | 13 |
| TOGO | 12 |
| SIERRA LEONE | 11 |
| YUGOSLAVIA | 11 |
| GABON | 10 |
| GAMBIA | 10 |
| NORTHERN IRELAND | 10 |
| MALTA | 8 |
| NAMIBIA | 8 |
| SURINAME | 8 |
| SWAZILAND | 8 |
| BHUTAN | 7 |
| FIJI | 7 |
| FRENCH POLYNESIA | 7 |
| MOZAMBIQUE | 7 |
| BURUNDI | 6 |
| CUBA | 6 |
| GUINEA | 6 |
| LIBERIA | 6 |
| BRUNEI | 5 |
| NETHERLANDS ANTILLES | 5 |
| ARUBA | 4 |
| ERITREA | 4 |
| KIRIBATI | 4 |
| LESOTHO | 4 |
| MALDIVES | 4 |
| MAURITANIA | 4 |
| ANGOLA | 3 |
| CAPE VERDE | 3 |
| CHAD | 3 |
| DEMOCRATIC REPUBLIC OF CONGO | 3 |
| SEYCHELLES | 3 |
| UNITED STATES | 3 |
| ANGUILLA | 2 |
| LAOS | 2 |
| SOMALIA | 2 |
| ARABIAN PENINSULA | 1 |
| CAYMAN ISLANDS | 1 |
| DJIBOUTI | 1 |
| GERMANY, WEST | 1 |
| GIBRALTAR | 1 |
| GUINEA-BISSAU | 1 |
| MARTINIQUE | 1 |
| MONACO | 1 |
| REUNION | 1 |
| Samoa | 1 |
| SAO TOME AND PRINCIPE | 1 |
| ST. VINCENT-GRENADINES | 1 |
| STATELESS | 1 |
| TONGA | 1 |
| TURKS AND CAICOS ISLANDS | 1 |
| VANUATU | 1 |