Top five Steve Jobs keynotes of the past decade
With Steve Jobs set to take the stage at the Worldwide Developers Conference on Monday, Network World picks five memorable keynotes by the Apple CEO from the last decade.
How big has the mobile app market become? Earlier this year, research firm Gartner projected that mobile apps would generate $15.1 billion in revenue this year, a 190 percent increase from the $5.2 billion in revenue it generated last year. Gartner also says that mobile app downloads will reach 17.7 billion in 2011, more than double the 8.2 billion mobile apps downloaded in 2010. What's more, Gartner doesn't see mobile apps as just a fad, as it predicts that users will have downloaded a total of 185 billion mobile applications by the end of 2014, meaning users will have downloaded an average of more than 30 billion applications per year between 2008 and 2014.
3. The iPad makes tablets a must-have item (iPad launch, 2010)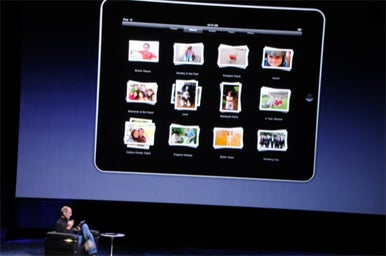 Steve Jobs kicks back at the 2010 iPad unveiling.
"OK, so it's basically a large iPhone."
That was the reaction of many in the tech world when Steve Jobs first introduced the "magical" iPad tablet computer back in 2010. The tablet handily beat back the skeptics, however, as it went on to sell more than 3 million units in its first three months.
During his keynote, Jobs emphasized that the iPad would have to fill a niche somewhere between PCs and smartphones. In particular, Jobs emphasized the device's ability to combine the mobility of a smartphone with a touchscreen large enough to deliver the full Web-browsing experience of a laptop.
"It's the best Web-browsing experience you've ever had," declared Jobs. "It's phenomenal to see a whole Web page right in front of you and you can manipulate it with your fingers. It's unbelievably great — way better than a laptop, way better than a smartphone."
The iPad's success seemingly caught the tech industry off guard as rival companies such as Motorola and Research in Motion have struggled to come up with a tablet capable of beating the iPad at its own game.
2. The iPod transforms how we listen to music (Apple press event, 2001)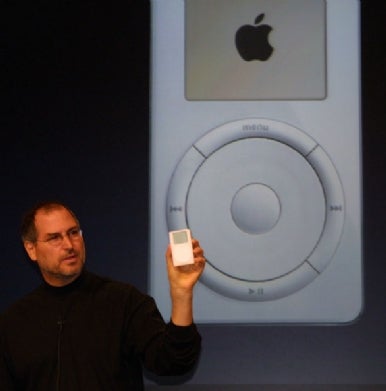 Steve Jobs shows off the first iPod.
Anyone remember what a pain it used to be to buy an entire CD that contained one good song and 11 pieces of mediocre garbage? Yeah, we do too, which is why we're thankful Apple came out with the iPod a decade ago.
The original iPod was able to hold 1,000 songs, was 0.78 inches thick and came with Apple's own FireWire cable that let users import songs onto their iPods in a fraction of the time it would have taken using a USB cable. The smartest thing Apple did with the iPod, however, was to tightly integrate it into its iTunes interface and its iTunes Store, thus making Apple the go-to source for buying and managing music on the Web. This fit in well with Apple's overall business strategy of making Apple products into entertainment hubs that consumers would use to store and access their music, movies, books and other media.