Sen. Ted Cruz changes his tone on H-1Bs
GOP presidential candidates may be downshifting on unabashed support for the visa program.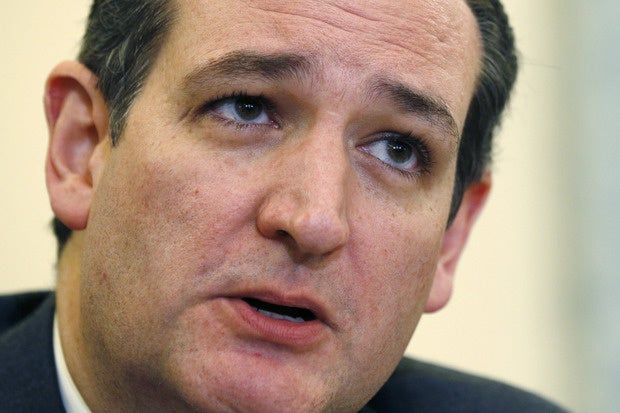 U.S. Sen. Ted Cruz (R-Texas) during a committee hearing on Capitol Hill on Feb. 24, 2015. Credit: Kevin Lamarque/Reuters
U.S. Sen. Ted Cruz (R-Texas) established himself as a champion of the H-1B visa program two years ago when he proposed a 500% increase in the visa cap. But Cruz, now running for president, may be moderating his views and says he's now working on legislation to reform the program.
Cruz, who is seeking the GOP presidential nomination, said he is "very, very concerned at the growing reports of abuse of the program, of companies laying off American workers and replacing them with foreign workers." Those comments came during a recent interview on the Vince Coakley Radio Show. (His comments about the H-1B program begin about 6:20 minute mark.)
Cruz said he is "working with my colleagues in the Senate on introducing a package of legislation on reforms to the H-1B program." His office did not respond to a request for comment about his plans.
Cruz said the H-1B program "was designed to bring in engineers and computer scientists who could generate jobs and add to our economic growth, and if companies are abusing it and laying off American workers they need to be investigated, they need to be audited, and if they broke the law then they need to be prosecuted."
Cruz isn't the first to seemingly change tone on this issue.
Sen. Marco Rubio (R-Fla.), like Cruz, has been a strong supporter of raising the H-1B cap. But Rubio seems to be toning it down as well. During the last GOP presidential debate on CNBC, Rubio was asked about the use of visa workers to undercut wages of American workers.
"If a company gets caught doing that, they should never be able to use the program again," he said.
It's hard to know what these candidates mean by "abuse." Using temporary visa workers to replace U.S. workers, who must train replacements as a condition of severance, has been a longstanding feature of the H-1B program. The U.S. has never said, through Republican and Democrat administrations, that replacing U.S. workers with foreign workers is illegal, despite a requirement that the H-1B program not adversely affect workers.
It may be that the replacement of U.S. employees by visa-holding workers at places such as Disney and Southern California Edison has made it impossible for candidates to support a cap increase without acknowledging the H-1B visa's negative impacts.
GOP presidential contender Donald Trump has adopted H-1B reform as an issue, and released an immigration platform that outlined some detailed changes to the visa program.