Outgoing Cisco CEO Chambers fesses up to mistakes, touts company's grit
Joins incoming Cisco CEO Robbins for wide-ranging Q&A with the press at Cisco Live.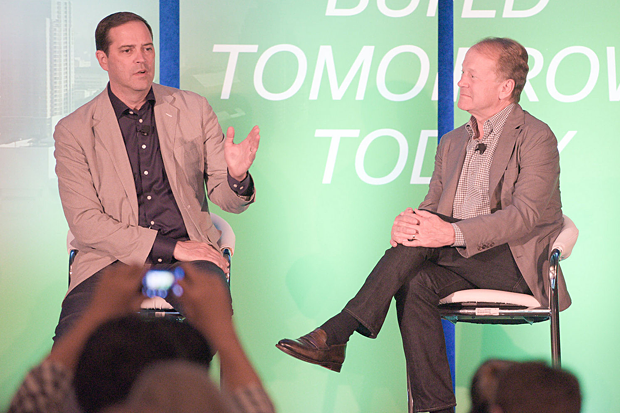 Reflecting on a two-decade tenure as Cisco CEO marked by enviable success, John Chambers says he wishes the company could have moved faster.
"Mistakes that I've made [have been] when I haven't moved fast enough" into new market opportunities, Cisco's outgoing CEO said to a room full of reporters during an open-ended question-and-answer session at the Cisco Live conference in San Diego. "Or I moved too fast without process behind it."
It was perhaps Chambers' last meeting with the press as CEO given that he will step down in late July. Incoming CEO Chuck Robbins shared the stage and fielded questions along Chambers.
Another challenge during Chambers' tenure was workforce diversity, he acknowledged. Robbins has already made strides there, though, in naming five women to his team of 10 executive leaders.
"That's one of the things that I'm really, really proud we've done well at the board and at the senior management level," Chambers said.
But he doesn't have any regrets.
"Any company and any CEO who doesn't take risks can't lead their company," Chambers said. "When you take good business risks not all of them are going to work out. And what I'm most proud of isn't our successes it's how we've handled our setbacks. When we got knocked down, we understood how we got knocked down and we got back up."
Cisco may have been knocked down a year ago by the National Security Agency's apparent bugging of Cisco equipment during the order shipment process. As part of a widespread surveillance operation, the NSA was believed to be intercepting Cisco routers to plant bugging devices before repackaging the products with a factory seal and sending them to international customers.
That prompted Chambers to write to President Obama with concerns about customer trust in technology suppliers, and the potential impact on sales and the US economy.
Chambers was asked about that this week, a year later, on what has or hasn't changed.
"Cisco's reputation and trust is probably at the very top of countries around the world," he said. "Even in Russia, they run their security systems in Moscow off of Cisco's architecture."
That statement was a curious one given that Cisco is under investigation for skirting sanctions in order to continue sales to Russian institutions.
Chambers continued: "I still believe our government leaders need to come together with rules of the road. Almost every government does do spying. That's not new, that's been true throughout history. I think it's very important for the companies to be successful to understand that you have to have rules of the road government leaders will eventually have to come to a conclusion on.