Nadella's $40M portfolio puny compared to Ballmer's
But he gets last laugh. While others may have received retention bonuses last year, he's now the CEO.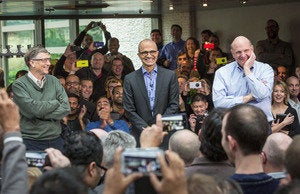 Microsoft disclosed new CEO Satya Nadella's stock holdings — both those he now controls and a larger number he has coming to him — at 1.1 million shares, with a paper value of nearly $40 million.
According to a Friday filing with the U.S. Securities and Exchange Commission (SEC), Nadella has 1,089,443 shares either owned or slated to vest over the next four years.
At the Friday closing price of $36.56, those shares were worth $39.8 million.
Nadella actually owns just 113,666 of those shares; the remainder are owed to him, assuming he remains with Microsoft, and will vest in several chunks this year and continuing through 2018.
In 2014, Nadella will be handed 196,725 shares, or 20% of the outstanding balance. His biggest year will be 2015 when 265,842 shares vest, or 27% of the total. After that, his vested shares slip each year from 2016 to 2018, when he will receive 117,962 shares.
By then, Nadella should have considerably more Microsoft stock in his portfolio, as he is scheduled to receive $13.2 million in stock grants for the 2015 fiscal year, which ends June 30, 2015, and each year after that. Nadella will also be eligible for an even larger chunk of stock that, depending on Microsoft's performance in the stock market, could be as large as 2.7 million shares over the next seven years.
Compared to Microsoft's two ex-CEOs, however, Nadella is a pauper. Bill Gates, co-founder and the company's first CEO, owns about 358 million shares (worth $13.8 billion), while just-replaced Steve Ballmer owns 332 million shares ($12.2 billion). Gates, however, is selling his stake on a planned rate of 80 million a year, and will relinquish the top individual stockholder crown to Ballmer by mid-year.
Gates will serve as Nadella's technical adviser after stepping down from board chairman role, while Ballmer will, at least for the foreseeable future, remain on the board of directors.
Although Nadella will be well compensated — one expert said Friday that his $1.2 million base salary was "pretty much right on market" for technology companies — he did not receive stock last fall when Microsoft handed out more than $60 million.
The September 2013 awards were given on the same day Microsoft filed another document with the SEC that said the board had approved special retention stock grants designed to ensure "continuity of key leaders during the transition to a new chief executive officer" and to recognize "sustained exceptional performance."
Eight executives received stock grants that same day: Kevin Turner, chief operating officer; Brad Smith, chief counsel; Eric Rudder, who heads the company's advanced strategy and research group; Tami Reller, marketing chief; Amy Hood, chief financial officer; Lisa Brummel, its top human resources executive; Frank Brod, chief accounting officer; and Tony Bates, the former CEO of Skype who now leads business development and evangelism. The eight were handed between $1.6 million (for Brod) and $19.9 million (for Turner) at the then-current share price.