Microsoft's next CEO: Let's handicap the candidates
With less than 12 months to decide on a replacement for Microsoft chief executive Steve Ballmer, members of the company's executive committee will have their work cut out for them. Here are five possibilities to fill the CEO post.
Who will replace Microsoft chief executive Steve Ballmer? Microsoft's executive committee has up to a year to decide and a pantheon of candidates from which to choose.
In many ways, identifying the next chief executive of Microsoft is a commentary on Microsoft's current track record. Does Microsoft's executive committee and board continue down the path that Ballmer began? Has the company failed to execute in some way? Or is a new direction required, perhaps with an emphasis on a particular business segment? All of these questions could guide Microsoft's CEO search.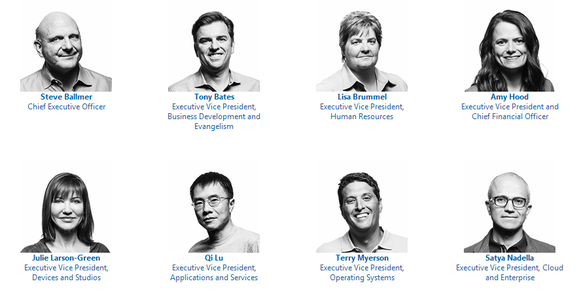 Click image to enlarge.
Ballmer's announcement that he will step down in twelve months came as a welcome surprise to Wall Street, which promptly sent Microsoft's share price up about 6 percent. Microsoft has struggled to convince the market that its vision for Windows has been the right one, and the planned Windows 8.1 update is seen as a do-over of sorts. Ballmer shook up its leadership team this summer,re-aligning the company with his vision of Microsoft as a devices and services provider. The problem? The "flat" structure of the reorganization left no obvious successor.
While Microsoft has not been averse to hiring from outside the company—chief operating officer Kevin Turner most recently served as chief executive of Wal-Mart division Sam's Club—some of the company's most senior staff have been long-time Microsoft employees. The executive committee that will find a replacement for Ballmer includes John Thompson, the board's lead independent director, plus chairman Bill Gates, chairman of the audit committee Chuck Noski and chairman of the compensation committee Steve Luczo.
Who might be next in line to replace Ballmer? A few candidates:
Julie Larson-Green: On the surface, Larson-Green would probably have the inside track. As executive vice president in charge of devices and studios, Larson-Green oversees the company's hardware businesses, including the Xbox and Surface; she also directs the content studios that run on them. She most recently led the product planning, design and delivery of Windows 7, Windows 8, and Windows 8.1, as well as the rapid release cadence that now characterizes the Windows environment. In addition, she's a 20-year Microsoft veteran.
Gates is on record that Windows 8 is a "huge advance for Windows," an important vote of confidence. But would Larson-Green do with a bit more seasoning before being named for the top spot? She hasn't had that much time in her new role, having just assumed it as part of the recent reorganization.
Qi Lu: As the executive vice president of Microsoft's Applications and Services Group, Lu is responsible for tying together Office, Bing, SharePoint, and a number of other services within Microsoft. As such, he's the "services guy" that Microsoft could elevate to the top role. However, Lu was also promoted away from the Online Services Division, which seems to perpetually lose money.