Meet me in the parking lot: Walking meetings hit their stride
Walk-and-talk meetings can energise employees and boost creativity.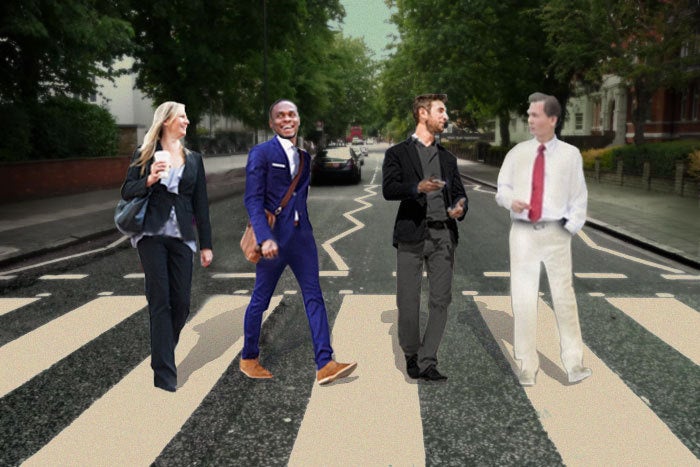 "Software engineer" might sound like a sedentary role, but it doesn't have to be. Janice Lan schedules walking meetings to break the sitting habit.
"Walking meetings are preferable for one-on-ones because it actually gives you a break from staring at a computer screen," says Lan, a software engineer at Sift Science, which develops machine learning technology to detect fraud. "I walk with either a manager or a peer, usually when we talk about high-level things."
A walking meeting is just what it sounds like: a meeting that takes place during a walk rather than in a conference room or office. People can hold walking meetings on sidewalks and park trails or inside shopping malls and convention centers if the setting isn't too noisy.
"All of our employees to some extent use walking meetings to break out of the sedentary lifestyle," says Robert Manigold, a partner at web and app development agency Code Koalas in Kansas City, Mo. "Being away from computers usually means that the conversations are more theoretical in nature or have to do with the human element of an issue, problem or concern in the workplace."
Walking meetings aren't new. There's a 2013 Ted talk on walking meetings; Steve Jobs is said to have been a fan of walking meetings; and West Wing fans will easily remember the TV show's signature walk-and-talk sequences. But in the tech world, are they practical? For people who spend their days tied to screens – monitoring, coding, data-crunching, configuring – is a walking meeting productive?
Advocates say yes, with some caveats.
There are enough options for note-taking and app access that make walking meetings doable for technical people, says David Aktary, founder of AktaryTech, which provides application development, consulting and recruiting services.
"It's absolutely possible (and beneficial) for people who are co-located, whose business is sufficiently tech-enabled, and who have smartphones," Aktary says. "Notes can be taken on phones, either by typing texting-style, or by making voice memos. For checking GitHub issues, there are apps for that. Need to verify something on your timesheet? Yep, there's an app for that."
Getting outside can help energize people and spark creativity. It's great for body and mind, says Jonathan Levley, vice president of Levley Marketing. His firm holds walking meetings that typically start at a local coffee shop and continue along Stevens Creek Trail in Mountain View, Calif.
"Our digital marketing work is very technical, but it requires a clear head space for creativity," Levley says. "The coordination is no more complicated than any other lunch meeting. We simply recommend comfortable shoes, good company, and a great coffee."
Meeting overload
Judging by the data, there's no shortage of meetings that could potentially be turned into walking meetings. Employees meet eight times per week on average, while senior executives in high tech, collaborative industries meet 17 times per week on average, according to a 2014 study conducted by research firm Ovum for remote access vendor LogMeIn.