IT leadership: Signs you're a micromanager (and how to stop)
Micromanagement may seem harmless, but it's sabotaging your teams, your productivity and morale from within, and stifling your business's ability to grow. Here's how to tell if you're a micromanager, and some steps you can take to overcome this fatal flaw.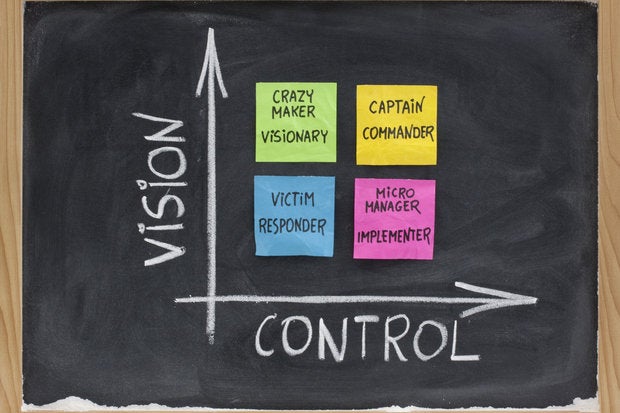 Are you never quite satisfied with your team's results? Do you avoid delegating at all costs, often taking on work that's far below your experience and talent level just because you're certain no one else can do it as well as you can? Are you constantly demanding status updates, progress reports and check-ins? It's time to face the facts: You're a micromanager.
Micromanagement might not appear to be a big deal -- you're just trying to make sure tasks and projects are on time, done right and in ways that will benefit the business, right? -- but the truth is, it's incredibly damaging to every aspect of a business, says Stu Coleman, partner and senior managing director at WinterWyman Financial Contracting and a self-proclaimed recovering micromanager.
Micromanagement Stunts Growth, Erodes Morale and Slows Productivity
"At its core, micromanagement chokes off growth. You can't micromanage a team, or an entire business and expect to grow; you have to support, groom and grow leadership within your organization that can take on roles and responsibilities that you used to perform so you can focus on strategic issues," says Coleman.
Micromanagement also negatively impacts employee morale, engagement and productivity, says Bob Hewes, senior partner with oversight for leadership development, coaching and knowledge management, Camden Consulting, and can lead to high turnover rates and even recruiting and talent retention problems.
"Micromanagement is almost never benign. It's a destructive force that goes far beyond a 'management style;' it really gets at morale, at engagement and you'll find that micromanagers often see high turnover of their direct reports," Hewes says.
Productivity suffers, too, as teams and individuals must constantly interrupt their progress to deliver status reports and updates as well as explaining their methods and processes in meetings and phone calls. The likely outcome of these constant status reports is that the micromanager's way is better, faster, and the employee is wrong, even though they may have excellent skills and a wealth of knowledge, says Hewes.
"It also creates a risk-averse culture. Workers aren't going to even want to try new, innovative things if they feel their managers is going to be breathing down their neck, waiting for them to screw up," Hewes says.
It can be difficult for micromanagers to identify their behavior, according to Coleman, because it can often be justified and excused. "I'm doing what's best for the business," "If this project fails, we'll all be in trouble" and 'too much is at stake for me to let the project be anything less than perfect" are all justifications for micromanaging behavior, but while those excuses may ring true in the short term, they're sabotaging your teams from within, says Coleman.