Is conflict the secret to a successful business?
Conflict in the workplace is inevitable. Don't fight it. If handled correctly, conflict can actually lead to happier, more engaged employees -- and that translates into a better business.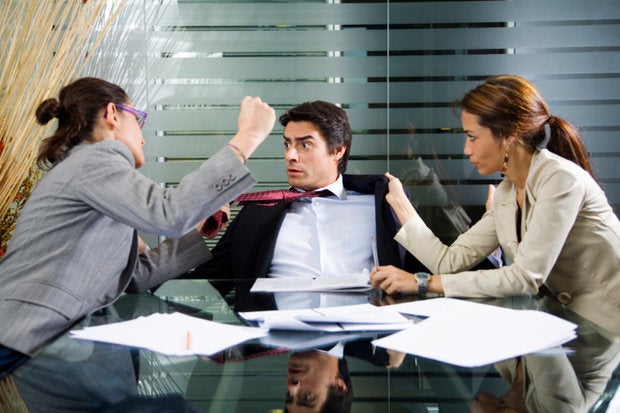 Credit: Thinkstock
Conflict in the workplace is inevitable, but, if handled correctly, it can actually lead to a more engaged and productive workforce. The key is to maintain professionalism at all times and remember to be empathetic, says Piera Palazzolo, senior vice president, Dale Carnegie Training.
"The most important thing to remember is that conflict isn't inherently negative," says Palazzolo. Conflict, while uncomfortable and disruptive, can actually be a great sign that your employees are motivated, engaged, passionate and invested fully in making your business and your company succeed, she says.
"Sure, you may believe that nothing's wrong if everything's going smoothly, but that's not always the case. Maybe people are just 'going along to get along,' and they're not as engaged or involved as they could be," Palazzolo says.
"If there's conflict, it shows that your people care; they are engaged and passionate and they are willing to argue for their position and for their success at work. The trick is making sure that conflict is managed correctly so that it's used to the betterment of the business; to get different points of view, to investigate different ways of doing things, to promote innovation and out-of-the-box thinking," Palazzolo says.
Conflict = Cooperation
In other words, make sure that any conflict results in increased cooperation, according to Yves Morieux and Peter Tollman in their book, "Six Simple Rules: How to Manage Complexity Without Getting Complicated."
Morieux and Tollman argue that conflict can be a sign that people are cooperating - that is, doing the hard work that makes a company better, more agile and more competitive, according to their book:
Eventually, however, the conflict that's creating these rising tensions and intense emotions can actually make for a happier workplace - and a more successful business, according to the book.
The Reward of Conflict-Fueled Cooperation: Happiness
"One of the rewards of more cooperation-and sometimes conflict-is that people are happier. In a clumsy, slow-moving organization, people become frustrated and disengaged because their work has no impact. Ironically, when you let conflict happen and sometimes encourage it, people get angry and fight with each other-and that makes them happier, because in the end they did difficult, important work that made a difference," Morieux and Tollman write.
That doesn't mean you should just step back and let employees battle it out in a conference room; you have to ensure conflict is handled productively and constructively so that it benefits all involved, and furthers the greater business goals, says Dale Carnegie's Palazzolo.
Empathy First
The first thing to remember is empathy, Palazzolo says - being open to differences of opinion and other points of view and showing respect for those, even if you disagree.