How to keep meetings from eating into your bottom line
No business wants to admit that it's inefficient, lacks clear direction or wastes tens of thousands of dollars. And yet businesses everywhere are doing just that by holding unnecessary, unproductive and unpopular meetings. Shifting your company culture away from meetings can make your businesses more productive and employees more engaged and efficient. Here's how.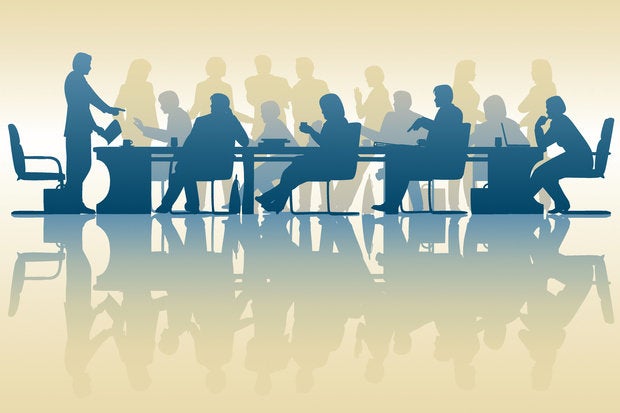 Meetings are hands-down the most ironic aspect of workplace culture today. Why? Because no self-respecting business wants to advertise that it's inefficient, unfocused, lacks a clear direction or purpose or that they regularly waste tens of thousands of dollars for no tangible reason. And yet, that's exactly what happens every day as businesses around the globe force their workers to spend time in meetings without seeing a return on that investment of time and energy.
"At its core, this is a cultural problem for businesses. Meetings rarely result in actionable work. Workers spend on average six to seven hours per week in meetings and are then forced to do the real work they were hired to do on the margins of their day. This leads to burnout, which leads to retention and attrition issues. You're not getting the best work out of your talent," says Carson Tate, the founder and principal of Working Simply, a management consultancy, and the author of "Work Simply".
When your workforce spends the majority of its time in meetings, they're not producing anything -- except more meetings, Tate says, and that becomes the entire culture of your business.
Making a Culture Shift
The first step to making any sort of significant change is to first be aware that a problem exists and understand the breadth and depth of the problem, according to Tate. Start documenting how much time is spent in meetings versus how much time is spent on other work, and then determine how much that's costing your business both in real dollars (try this handy meeting cost calculator) and in terms of where employees' time would be better spent.
"You need real awareness of the impact and the cost of your meeting-centric culture. Look at your team members. Are there constant emails coming in time-stamped 2 a.m.? Are there regular meetings that involve numerous executives whose skills and time could be better used elsewhere? What did the time, energy and money put into these meetings really produce? You can't change what you can't see," Tate says.
Imperfect Culture
Next, you have to accept that your culture, such as it is, is broken. Then, take a deep breath, and move on to the third stage, which is committing to changing that culture for the better. The fourth step is the most difficult: actually developing and implementing the steps to change. Whether organizations decide to go it alone, or hire a consultancy like Tate's, this will be the most difficult step for organizations to stick to. Finally, organizations must implement new meeting strategies and tactics to replace the old, says Tate.