How CIOs can keep their jobs by picking the right vendors
CIOs don't stay in their jobs for long. Messy IT systems, cobbled together over many years, go a long way toward explaining why. To fix this problem, and to give themselves some job security, CIOs would be wise to study their vendors more carefully.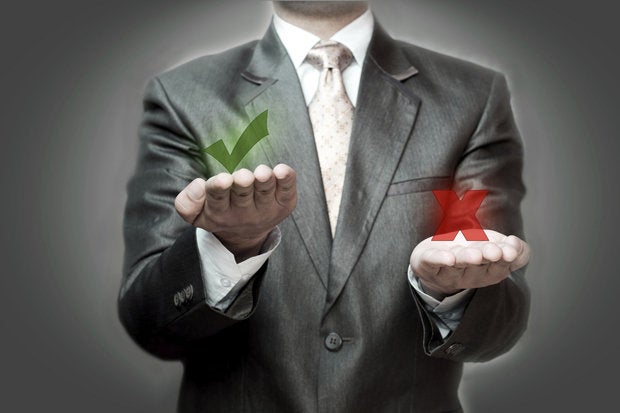 Executive weighing pros and cons Credit: Thinkstock
I was taken by a customer presentation by Stephen Rayda, CTO of Purdue Pharma, at this week's EMC Analyst Summit. Like all pharmaceutical firms, Purdue faces a lot of pressure -- and it just got a new CEO to boot. He asked which departments didn't need his attention; luckily, IT was the only one to make that list.
This is in sharp contrast to what typically happens. When a new CEO arrives, IT becomes such a priority that the CIO polishes up his or her resume, anticipating a catastrophic career change driven by the new CEO. CIOs have a relatively short lifespan. They effectively start out as an endangered species. We don't focus on that problem as much as we should.
How Purdue Pharma Fixed an IT Infrastructure Mess
At Purdue, like many companies, IT started to get out of control -- a mess of mismatched hardware and software, all heroically (and often unsuccessfully) trying to interoperate while the vendors that sourced these technologies pointed to each other as the core problem to be solved. Meanwhile, it should be impossible to fix a mess such as this simply by patching, but that's exactly what most CIOs attempt. Rather than fix the core problem of excess complexity, they just make it worse. That's why IT typically tops any list of departments facing critical problems.
Rayda saw this and prescribed VCE's Vblocks. These replaced the mess with a known configuration of things designed to work together. He reported cost savings, energy savings, increased customer satisfaction and, best of all, being removed from the problem list and placed at the top of the "Don't Break What's Working" list.
(Note: The author is assigned to both VCE and EMC through his work with Valley View Ventures.)
As part of the process, VCE took over most operational responsibilities. As Purdue moves to higher levels of automation, the staging decisions now happen inside VCE. This removes the conflicts of interest inside Purdue, allowing it to just focus on return on investment for any related efforts. People willing to embrace the change were retrained to fill user-facing roles focused more on expanding services and less on keeping stuff functioning. Those who didn't want to change were managed out of the company.
One interesting benefit was that, when Oracle came in asking for an additional $1 million in licensing charges, based on new core loads, Purdue was able to shift loads, reducing that unplanned charge by 90 percent thanks to the flexibility of the system. Typically, that doesn't work so well.