EHR failure partly to blame for VA troubles
In a wide-ranging critique of the U.S.' federal IT, former defense secretary Robert Gates says the inability to set up an electronic health record system linking the Pentagon and the VA is one of his 'chief regrets.'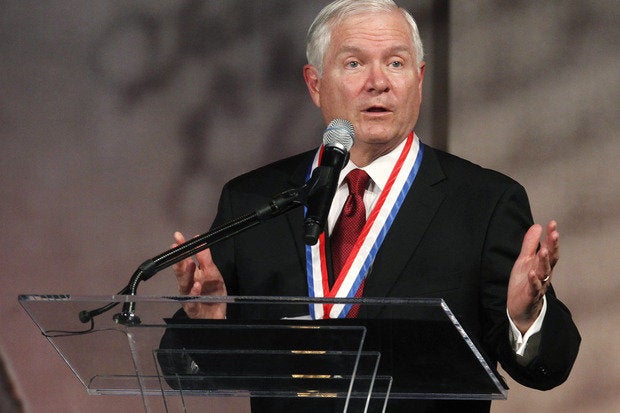 Credit: Reuters File Photo
The troubles at the Department of Veterans Affairs are in part the result of the failure to set up a system of electronic health records (EHR), former Defense Secretary Robert Gates said on Tuesday.
"One of my chief regrets as defense secretary was the Pentagon's inability to come up with a common platform for sharing electronic medical records with the Department of Veterans Affairs, which continues to be the cause of much delay and dysfunction, as we have recently seen," Gates said in remarks at a federal IT forum.
No Fond Memories of Government IT
Showing no nostalgia for his time in Washington, Gates, who led the Defense Department under Presidents Bush and Obama, reflected on many of the challenges and frustrations of revamping the technology apparatus within the government's largest purchaser of IT.
He described an environment where bureaucratic institutions stand in the way of innovation and nimble development of new applications and processes. In that context, setting up an EHR system for the VA proved too tall of an order.
That department has since become engulfed in a scandal involving long wait times for veterans seeking care that ultimately forced the secretary of the department to step down. The department's inspector general is currently conducting an investigation to determine how many veterans died while awaiting treatment at VA facilities.
The VA scandal is certainly much bigger than just a tech issue, and Gates did not dwell on the matter. Instead, he offered a wide-ranging critique of how the federal government acquires, deploys and manages its technology portfolio.
Gates is all for modernizing those systems, though he warns against hinging purchasing decisions on anticipated cost savings.
Tech Won't Save Federal CIOs Money
Vendors commonly bill their offerings to federal CIOs as a boon to the agency's bottom line. And it's no wonder. At a time when departments and agencies have been grappling with flat or declining budgets and facing mandates to modernize operations and improve services, cost is a driving factor in the CIO's decision-making process. But the promised savings often prove elusive, according to Gates.
"IT change is always sold on the basis that it's going to save money. I've been at this for the better part of 30 years, and I have yet to see a single dollar saved," he says. "I've very, very rarely seen real dollars saved through change in IT. But what I have seen is extraordinary leaps forward in capability and in efficiency."
Past isn't necessarily prologue, however. Gates does allow for the potential of technologies like cloud computing and ongoing efforts such as the government-wide push to consolidate data centers to yield significant expense reductions.