Bosses without borders: Essential tools for managing remote workers
Remote working is on the rise: remote workers put in more hours and are slightly more engaged than their office counterparts.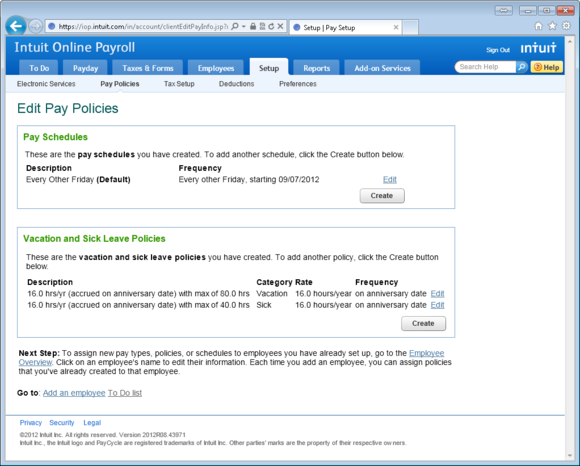 Intuit Online Payroll lets you access payroll information from a Web browser, smartphone, or tablet. It comes in three flavors. Basic, which starts at $25 per month, is strictly for paying people. Enhanced (starting at $35 per month) generates paychecks, automatically fills in W-2s and federal and state tax forms, and reminds you when payroll taxes are due. Full Service (starting at $99 per month) takes care of paying workers as well as filing and paying taxes. Under each plan, you must pay an extra $2 per month for every employee you pay. For an additional $3 per person per month, you can add a time-tracker module to the service: Employees can then clock in and out and complete their own timesheets, eliminating the need for double entry.
For expenses: Expensify
Expensify--offered by a San Francisco startup whose tagline is "Expense reports that don't suck"--is an online tool and mobile app that greatly simplifies tracking expenses and creating and submitting expense reports. When installed on your employees' mobile devices, the mobile app lets them record expenses on the fly, snap photos of receipts, use GPS to figure out how many miles they're driving, and track how many hours they're spending on a project. This is especially handy now that Expensify offers invoicing features.
Once back in the office, workers can access the Web app, which syncs with information entered on the mobile app. From there, they can use Expensify's SmartScan technology to analyze photos of receipts and automatically fill in date and amount fields. If users import bank and credit card transactions, the platform will generate e-receipts for expenses that will pass muster with the IRS, so nobody has to keep files of paper receipts.
Expensify integrates with many popular products, including Evernote, FinancialForce, FreshBooks, Google Apps, NetSuite, QuickBooks, and Salesforce. You'll need a premium subscription to connect to some of these accounts.
The free version lets bosses accept, review, and approve the expense reports of two employees. Coverage of additional staffers costs $6 per person per month. Users can upload as many receipts as they want to Expensify. Free SmartScans are limited to ten per month, after which they cost 20 cents each.
Other essentials
Want more? If you need to track remote workers' time on the job, giveTransparentBusiness a whirl. It does things like take screenshots from an employee's computer every few minutes. For phone-intensive businesses, ShoreTel Sky's VoIP technology (priced at $35 to $50 per user per month) enables your people to transfer calls to each other even if they're all working remotely--and it lets you see how much time they're spending on the phone. Need to group-chat with a bunch of people at once? TryHipChat. Harvestis great for time-tracking, managing expenses, and invoicing, and it integrates into many project-management apps.FreshBooks is a good cloud-based accounting service that integrates with a plethora of other software platforms that your employees might already be using.
Honestly, the list could go on. There has never been a better time to embrace remote work, because fantastic, affordable tools abound that make keeping in touch with telecommuters dead simple.
Previous Page 1 2 3