2015 in review: The year in Android
From Android Auto, to Stagefright, to BlackBerry entering the fold, we look back at the year in Android.
Android Marshmallow goes transparent
Look, I'm not saying that Android 6.0 Marshmallow is particularly exemplary or anything like that, but it is a really significant update, and it finally brings to Android users what we've been clamoring for all along: transparency.

Android Marshmallow brings with it more transparency to Android users. Credit: Florence Ion
Unlike Lollipop, which focused on delivering a new aesthetic and way of using Android, Marshmallow is more about giving you some control over what's going on under the hood. The software update allows you to tinker with the permissions for almost every application installed. Marshmallow also features the first iteration of Google's Now on Tap, as well as Doze, which is a serious battery life saver.
Android N is up next on the horizon. We'll probably hear about that at Google I/O in the spring time, though the Pixel C team has hinted that the next version of Android will have much better tablet optimization. (I certainly hope so.)
A big year for Cardboard
I still get dizzy when I use virtual reality, but that doesn't mean I don't occasionally indulge in some time with Cardboard, Google's cheap and affordable virtual reality viewer.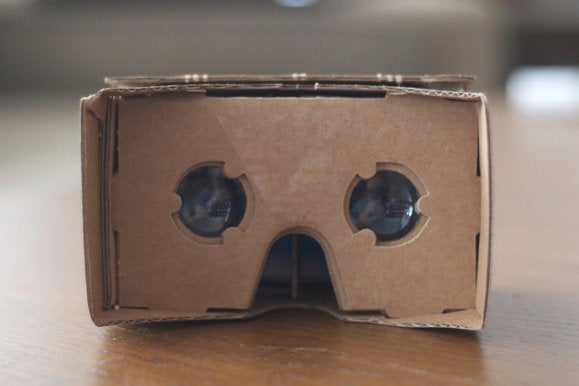 The cheap little thing is actually a lot of fun.
Google really wants it to catch on. At its developer conference earlier this year, the company announced a software kit that would bring Cardboard apps to more devices, like the iPhone. It also showed showed off a 360-degree camera with 16 GoPros rigged to it for filming videos specifically to be viewed with Cardboard. And, it introduced Google Expeditions, which gives school kids their own Cardboard so that they can take virtual field trips along with their classroom. The New York Times, Verizon, and Adult Swim have also all offered up their own versions of Cardboard, and now you can even make your own personal virtual reality video. There's no doubt we'll see plenty more apps and experiences for Cardboard coming in the new year.
Blackberry jumps ship to Android
Admittedly, when I heard that BlackBerry would be using Android as its operating system instead of its own BlackBerry 10, I laughed. Loudly, even. I didn't believe it was possible for BlackBerry to make an Android device that was worthwhile.

The BlackBerry Priv is actually not a bad Android device... Credit: Florence Ion
But I was proven wrong, and the BlackBerry Priv really is a solid smartphone. The Priv has even sold out on numerous occasions—though that's more likely due to the fact that retailers were underestimating how it would perform, and thus didn't order enough units to put on their shelves. Regardless, BlackBerry's first entry into the Android sphere is an impressive, if somewhat expensive, phone. Let's see if it can make an even better version two.
Previous Page 1 2 3 4 5 Next Page