10 tips for being healthier and more productive at work
Taking care of your health and well-being can improve engagement and performance, but you need to kick these 10 bad habits first.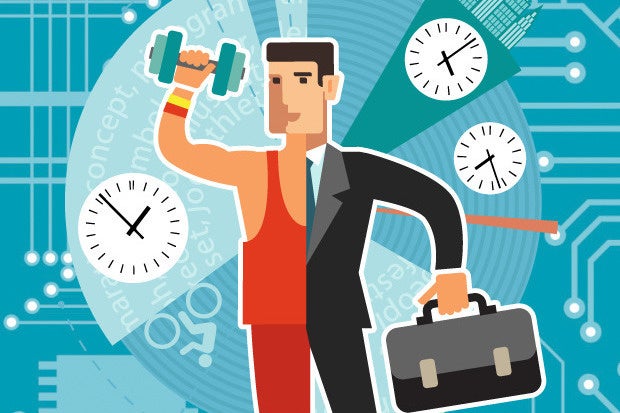 Over the years, we have developed work styles and adopted habits that are detrimental to our physical, mental and emotional health. This has impacted our engagement and our performance in negative ways and has stood in the way of the most effective ways to increase both of those in the workplace, says Leigh Stringer, a workplace design specialist, writer and researcher as well as author of "The Healthy Workplace."
"It's not that we're bad people, or that we aren't working hard. The problem is that what our minds and bodies need at a basic level is in conflict with our work style. We are so focused on work, on getting things done, that we've changed the way we eat, move and sleep in a way that is actually counter-productive," Stringer says.
To achieve a healthier workplace, Stringer offers examples of 10 bad habits you need to address immediately and how you can start to break those habits.
1. Sitting down to work
You've read the news and have heard that sitting for long periods of time is bad for your health. Extended sitting can cause, among other things, deep vein thrombosis and poor cardiac and metabolic health. The issue isn't that we sit, the issue is that many of us sit and work without standing or walking for many hours at a time, without getting up to move around, Stringer says. Of course, at the other extreme, walking at a treadmill desk for eight hours a day is not the answer either (at least for most of us), she says.
Instead, stand up every 30 minutes and walk around every hour and a half, even if it's just for a few minutes, she advises. If you can request a standing desk, try it out. If you can't, at least try and find surfaces around your workplace that are bar-height where you can stand and work for a few minutes each day. You also can take phone calls, watch presentations, read or perform other activities while standing up, or even walking if it makes sense for the task at hand.
2. Using the elevator to exclusion
Elevators in modern buildings are typically placed front and center, which is great for "universal design" and accessibility for people with different physical abilities. However, if you do not need the elevator, you are missing an opportunity to make a healthier choice.
Instead, take the stairs and use prompts and cues to encourage stair use across your office, Stringer says. You can paint the stairwell a lighter color so that it appears brighter and less foreboding. Add artwork to give the stairwell a personal touch and add visual interest. Pipe in pleasant music; some buildings are actually taking music out of elevators and putting them in the stairs to make the stair experience more desirable. Finally, if your local building code will allow, install a magnetic 'hold open' gadget on the stairwell door which will release in case of a fire. Psychologically, having a staircase that is more open feels safer, which increases use.