10 things you need to know about Satya Nadella, Microsoft's new CEO
Satya who? You'll know after reading this. (He loves books and online neuroscience courses!)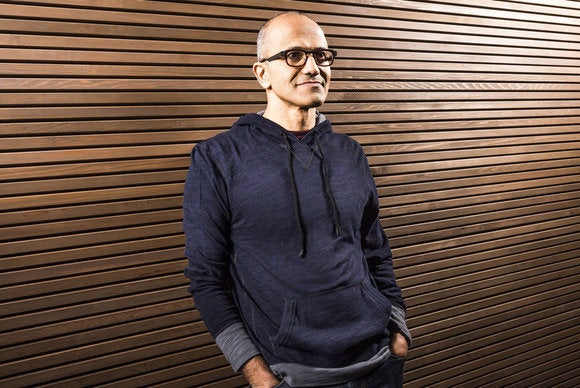 At long last, after much searching, a flood of whispered rumors, and more than a little journalistic hand-wringing, Microsoft has found its new CEO: Satya Nadella.
Wait, who?
Unless you're a diehard Microsoft observer, the name probably doesn't ring a bell. That won't do. So who is the man who now becomes Microsoft's guiding light for the foreseeable future? Here are the 10 most important things you need to know about Satya Nadella, Microsoft CEO.
1. He's been with Microsoft a long time
Nadella is as insider as Microsoft insiders get, which may disappoint pundits hoping for an outsider CEO capable of breathing fresh life into Microsoft's complex business.
The India-born Nadella is an electronics engineer who also holds a degree in business administration. He started his career at Sun Microsystems before joining Microsoft all the way back in 1992. Since then, he's held several executive-level roles, including management of Microsoft's Server and Tools division, which generated double-digit billions in revenue, and most recently the company's Cloud and Enterprise group. But not all of his work has focused solely on business: Nadella is credited with transforming Windows Live Search into Bing, which now provides the informational backbone to a wide range of Microsoft services.
2. He has his head in the cloud
Nadella's anointment fits right in with Microsoft's recent transition to a device and services company. Microsoft is rapidly shifting toward cloud-centric services like Office 365, SkyDrive, Xbox Live, and the Microsoft accounts that glue Windows 8's device-hopping chops together. Nadella's division was in charge of the technology powering it all, which brings us to the next point.
3. He admits computing is moving beyond the PC
"I believe over the next decade computing will become even more ubiquitous and intelligence will become ambient," Nadella wrote in his first email to Microsoft employees as the CEO of the company. "The coevolution of software and new hardware form factors will intermediate and digitize—many of the things we do and experience in business, life and our world. This will be made possible by an ever-growing network of connected devices, incredible computing capacity from the cloud, insights from big data, and intelligence from machine learning.
"This is a software-powered world."
4. But he remembers that software is delivered via hardware
At the end of the Microsoft-produced interview with Nadella below, he drives home that Microsoft is also now a player in the hardware business, despite the strong software-focused talk above. "The world going forward is more of a software-powered world, delivered in devices," he says. Those thousands of Nokia, Surface, and Xbox employees must be breathing a little easier.