10 steps to becoming a horrible IT boss
Good-bye, programming peers; hello, power to abuse at your whim.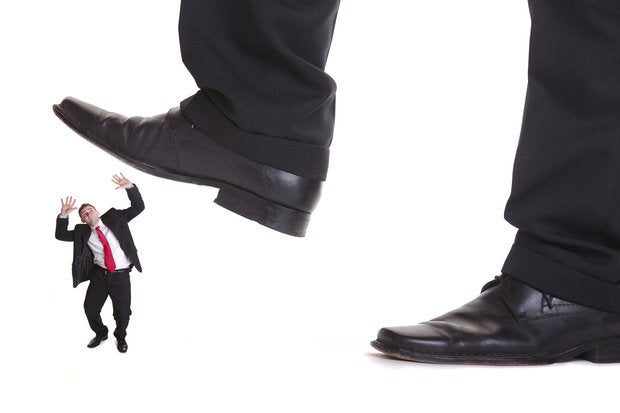 It's legendary: A CIO promotes his best developer into a management role, losing an excellent programmer and gaining a bad manager.
The art of management isn't so much about assembling a dream team, helping others be successful, or solving technical problems. It's about aligning everything you do in service of the business—the business of yourself.
If you're new to IT management, here's an infallible guide to breaking bad—all the way to the top.
Step 1: Enjoy your newfound authority
Life is too short to do anything else.
In your previous roles you had to beg for money, even for such rounding-error expenses as buying your team the occasional pizza. No more! As a manager you have an actual budget. You can buy your team the occasional pizza without having to ask anyone's permission.
But that isn't where you get to enjoy your authority. You get to enjoy it when a project manager who reports to you wants to buy pizza for her team. That's when you make your authority clear: You require a solid cost justification for expenses like that.
Step 2: Coach
About that pizza cost justification: Don't simply insist on it. That would be autocratic. This is a coaching opportunity—a teachable moment.
Call the project manager into your office. Close the door. And quietly and patiently explain why it's important to justify discretionary expenditures, even for something as seemingly innocuous as a pizza lunch for a hard-working team. Why is it so important? Here are some possibilities to choose from:
Attitude: Buy too many teams too many pizzas and you'll foster a sense of entitlement. After a few repetitions the pizzas will no longer be considered a reward or expression of gratitude, and it'll be expected, simply because everyone is doing their jobs.
Opportunity cost: Even seemingly small expenses add up. The sum of all pizzas can eventually become high enough to exceed the cost of a Microsoft Office license. Does your project manager really want to be the reason some poor employee won't be able to word process?
Shareholder value: This is the big coaching opportunity. See, in your industry the stock price is expressed as a multiple of corporate earnings; maybe the industry average is a 12:1 price/earnings ratio. That means every expense has to be multiplied by 12 to calculate its impact on the price of a share of stock.
As employees, we all have not only a fiduciary responsibility, but a moral imperative to maximize shareholder value. Is the pizza really as important as our ethical integrity?
These are coaching possibilities alone. Don't limit yourself to them. Innovate—come up with your own based on the coaching opportunity. After all, one of the reasons you were promoted was your willingness to take initiative.