Remembering David Bunnell, the Macworld founder who relished lying to Steve Jobs
In memory of David Bunnell (1947-2016), we share this classic story of how Macworld's famous first cover story came to be.
David Bunnell (1947-2016), founder of Macworld, PCWorld, and PC Magazine, passed away on Tuesday at his home in Berkeley, California. He was 69 years old. Without him, our website and sister sites wouldn't be what they are today. Below, we remember one of Bunnell's greatest stories—about how he convinced Steve Jobs to pose for the cover of Macworld's very first issue back in 1985.
A few weeks after Steve Jobs posed for the cover of the first issue of Macworld, he changed his mind. He didn't want to be on the cover anymore.
So David Bunnell, the founder of Macworld, used one of the oldest tricks in publishing: He lied about the magazine going to the presses.
"This is one of the highlights of my career," said Bunnell, who told the story to a crowd attending the Mac 30th Celebration at the Flint Center (the site of the original Macintosh introduction) in Cupertino in 2014. "I said, Steve, it's too late, the magazine is off to the printer, it's on the presses as we talk. There's nothing we can do about it." In truth, the entire issue hadn't yet shipped to the printer.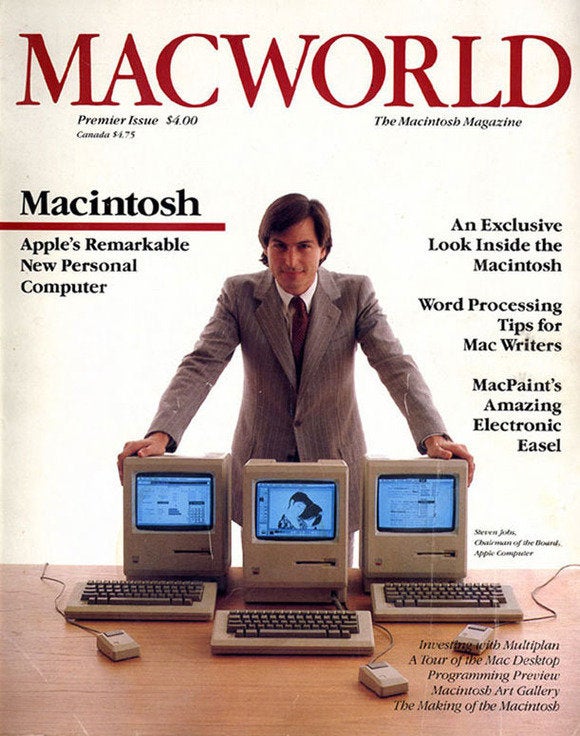 Macworld's first issue cover wouldn't have happened without David Bunnell.
The first issue of Macworld was released the same day the Mac came to market. "On the day that Steve introduced the Macintosh, we were [at the Flint Center] passing it out," said Bunnell. "It was really a phenomenal event."
Jobs initially didn't want to be on the cover of the first issue of the magazine. "Getting this photo done was a major undertaking," said Bunnell. It took some convincing by Bunnell and other Macworld staffers before Jobs finally relented. "How could we have this incredible magazine come out the very day the Macintosh comes out and not have Steve Jobs on the cover? It's unthinkable."
Jobs stressed that he didn't have time for a photo shoot, so preparations were made beforehand to help the shoot happen as quickly as possible. According to Bunnell, a stand-in was used to properly adjust the lighting, props, and camera settings. That way, when Jobs arrived, he could simply stand in place, take some photos, and leave.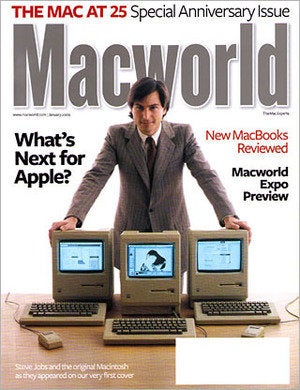 The first cover was reprinted on a special subscriber-only cover of the January 2009 issue of Macworld to commemorate the Mac's 25th anniversary.
Of course, when Jobs arrived for the shoot, he immediately disliked what he saw. "The first thing he did was look at these screens," said Bunnell, "and he didn't like what was on the screens." This set off a scramble to change the screens as quickly as possible.