Young tech entrepreneurs inspired by hearts, minds, stomachs, and not necessarily in that order
Babson Rocket Pitch participants share ideas on recording runners, moving on from Facebook & getting time sheets under control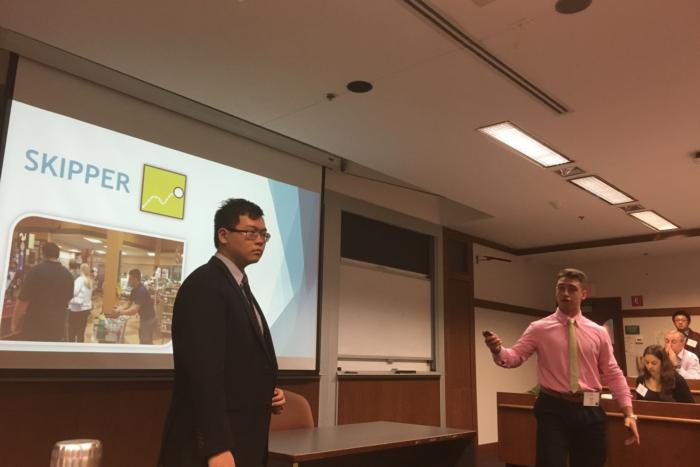 Bob Brown/NetworkWorld
Skipper's Michael Lee (left) and Kyle Kent are sick of waiting in grocery store lines
Another big source of inspiration for budding entrepreneurs is, unsurprisingly, social media. Something that can be done while eating.
A couple of presenters -- from Zapstream and CliqBit -- think they have better ways to do social networking and sharing. CliqBit Co-founder Olivia Joslin (Wellesley College '19) says members of Generation Z are on their phones for more hours than they sleep, but most aren't spending that time on Facebook or Twitter. The key is making social way more fun, and that's something one Zapstream team member said a Mark Zuckerberg in his early 30s just isn't going to appreciate...he's not going to want to put a dog filter on his photos.
Not to say that all the pitches were rooted in chowing down or getting yucks:
*Alibi wants to automate the time sheet process for overly busy professional services personnel.
*Convertrio aims to boost the effectiveness of websites by testing various versions of them.
*Runners Convoy will attempt to work with road race organizers seeking to differentiate their events by recording individual runners' performances and offering advice to the athletes on their runs.
*Carewell is an AI-infused web platform designed to support unpaid home caregivers by emphasizing the positive moments and enabling them to garner advice from others in similar situations.
*Mohit Juneja's (MBA '18) MeldTrend, borne from his experiences in sitting through many a meeting while working on Wall Street, is a mobile app that uses speech recognition and natural language processing to analyze and summarize meeting minutes.
Those seem like some pretty serious ideas worth discussing over a meal and on social media.