Tired of sitting all day? Tech pros take a stand
Tech pros find ways to break the sitting habit.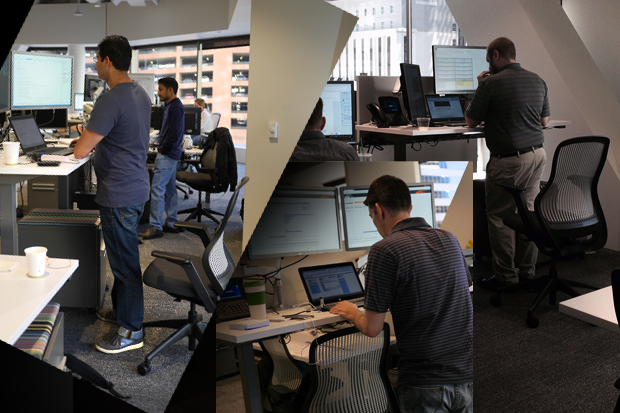 Credit: KPMG Ignition
Sitting at a desk all day isn't healthy. Countless studies show prolonged sitting raises the risk for diabetes, heart disease, cancer, and myriad other ailments. Even for people who exercise daily, the negative effects of a sedentary rest-of-the-day can trump the benefits of a workout.
In the IT world, how can people break the sitting habit? We reached out to tech pros who've found ways to be active during the workday. Here are some tactics that work for them.
Take a walk- "I take a 15-20 minute walk a few times a week, more when I can. I take a couple of technicians with me when they are available, and we chat about miscellaneous things," says Jeremy Gibeault, senior manager of information systems at restaurant chain Firehouse Subs. "I find that when we are away from our desks, ideas flow more freely and I get to know them on a more personal level."
Establish routines- Developing new habits is important, says Trevor Ewen, a software engineer who uses a standing desk for roughly half the workday, holds meetings away from his desk, and walks around the block when he's taking long calls. The discipline of a routine "will remind you to be active on even the dullest of days," Ewen says.
Staying active is park of work life at Beck Tech Support, which offers tech support to small business and consumers. "We have work rules about what to do and when to do it, so each hour we have 10 minutes that must be done either standing, walking or physically assembling a system or running infrastructure including cabling. We schedule this for everyone," says owner Jim Beck.
"Some jobs are easier because they involve physical work for installation and infrastructure, but others such as remote technical support are harder. For those we have a few desks that change height so you can keep on working but you will be standing for those 10 minutes," Beck says.
Employees doing desk-centric work such as programming or web design are also encouraged to take 30-minute breaks in the morning and afternoon "and during that time we encourage everything from ping-pong to physical game play," Beck says. "People like the break and we haven't had any issues with loss of productivity."
Stand on the job- Glenn Cipolla, senior partner and vice president of technology at gaming platform maker INTAP, has been using a standing workstation for more than a year. "I would never go back to sitting. I have hip and back pain, and the standup workstation has proven to be a huge pain reliever while also burning more calories," Cipolla says. "It has given me a considerable boost in efficiency, energy and problem solving."